Recent Network Events:
DC Sister Society Meeting - February 25
The DC Sister Society kicked off our 2015 season on February 25 at CUNA Headquarters in Washington, D.C. The meeting was well-attended by industry experts and consultants, as well as credit union professionals in executive and senior management positions.
Bryn Vaupel, co-chair, provided an overview of the World Council of Credit Unions and the Global Women's Leadership Network (GWLN), including a review of the program goals and the process for membership. Bryn also announced the DC Sister Society 2015 Leadership Program topics and schedule, intended to provide value to credit union women as they advance personally and professionally. Attendees also received valuable information from Brianne Hurford, Communications and Development Manager, on the World Council and GWLN structure and communications plan.
Sarah Cooke, co-chair, provided an overview of the Society's selected charity, Wider Opportunities for Women (WOW). WOW focuses on good jobs, economic security, gender equity, economic empowerment and retirement for women. More information regarding the organization's specific needs and the ways in which the Society members may contribute will be provided at future meetings.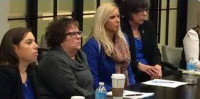 The first topic in our series, Increasing Our Emotional Intelligence and Self Awareness, was then presented by Laurie Maddalena of Envision Excellence. Laurie distributed the results of the individual attendees EQ-i Assessments and provided valuable insights into understanding your individual type along with sound leadership takeaways. Ideas and experiences were shared by all participants as they networked throughout the morning. Suggested reading included The Precious Present by Spencer Johnson, Search Inside Yourself: The Unexpected Path to Achieving success, Happiness and World Peace by Chade-Meng Tan, and 50 EI Exercises For Biz Managers.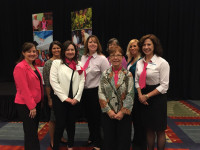 The meeting adjourned with a reminder of the next meeting scheduled for April 22 at The Partnership FCU in Arlington, VA. The next topic in our series will be Leading and Living at a Strategic Level. Key components will include critical skills and competencies for executive positions, strategies for being a respected and influential leader and carving out time to plan, network and build relationships. All participants were encouraged to send their Twitter handles and to attend the GAC breakfast on March 11, sporting their pink ties in support of the GWLN. Evaluations for the session will be sent to all attendees in an attempt for continuous program improvement.

Colorado Society Meeting - February 24

President and CEO of Elevations Credit Union, Gerry Agnes, welcomed over 30 female executives to the credit union and spoke eloquently about the importance of the Global Women's Leadership Network and World Council. He proudly noted that Elevations Credit Union has earned the Malcolm Baldrige National Quality Award, the highest presidential honor for performance excellence in innovation, improvement and visionary leadership. Elevations is the first credit union in the country to win the award.
This commitment to leadership development was evident through the Sister Society meeting. Nancy Herbert, Board Member of Elevations, started the networking by introducing the members to Safehouse Progressive Alliance for Non-violence, Suzzanne Painter, who discussed domestic violence and the impact Network donations will have in supporting women within the community.
Susan Mitchell, founding Chair of Global Women's Leadership Network, was introduced by Nicole Brusewitz, Mountain West Credit Union Association. Susan gave us the background of Global Women's and the history of Dr. Brian Branch's, CEO of World Council, purpose in starting a network of credit union women. It was an inspiring look at how we can make a difference, globally and locally. She noted that there are now more than 700 members in 53 countries.
Calyn Ostrowski, Worldwide Foundation Executive Director, presented key initiatives from World Council and gave the members a look at events that are planned for the upcoming year, as well as a background on the Scholarship and Empowerment Grant programs and the strategic vision for the Network.
The group then engaged in networking exercises regarding leadership transitions, telling their personal stories, advocating for themselves, asking for a seat at the table and a robust discussion on "why" women are not stepping forward.
We discussed becoming the "host" Sister Society for the Denver World Credit Union Conference and everyone was very excited. We encouraged everyone to join as members, so they can participate fully in the opportunities presented through the Network.
Thanks again to Elevations Credit Union and Mountain West Credit Union Association for your support!
Arizona Sister Society Meeting - February 10

Thank you to CEO Jane Dobbs and her staff at Canyon State Credit Union for sponsoring and leading this event. Thirty two women were in attendance as we met at Phoenix Metro Tech, a point of pride in the area which internally operates its own student-run credit union branch with Canyon State. Metro Tech has been recognized as an "A+" School by the Arizona Educational Foundation, and is a magnet for creativity. Culinary students prepared today's continental breakfast and lunch and the florist program created our table decorations. What an inspiration!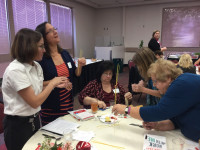 Guest speakers included: Metro Tech Principal Kate McDonald who gave insight into her journey as a leader in business and education; Rachel Rogoff from the Child Crisis Nursery, who talked about their child prevention services and strategies; Marquetta White and Debbie Meshey from Arizona Credit Union who provided an update on the Global Women's Leadership Network; and Sue Liebah who spoke about PSCU's generous support and contributions to the Network.
We were truly inspired by our featured speaker Jane Dobbs, the President and CEO of Canyon State Credit Union. She spoke about her vast experience within the financial industry, what she found difficult, and what she made her thrive. Jane shared her perspective and strategies for balancing family and an entrepreneurial venture. She generously distributed copies of the book How to Win Friends and Influence People—a timeless classic on navigating the business world which Jane feels helped her develop into the leader she is today.
We hope to see you at the Networking Breakfast at the Mountain West Credit Union Association's annual meeting in Phoenix on March 27 or at our next Sister Society meetings on May 19 or October 21. Please contact Marquetta White or Debbie Meshey for more details.
CA Bay Area Sister Society Meeting - February 6

Colleen Cabey called the meeting to order at 11:15 and welcomed 15 attendees. After brief introductions we heard an update on the Network's national and international endeavors by the World Council office. We were reminded to register and attend the GAC Networking Breakfast on March 11 in D.C. and the Network Forum on July 12 in Denver.
Cynthia Held, Marketing Director at San Mateo Credit Union, introduced our speakers: Linda White, CEO of United Health, Monica Tinsley-Smith, Asset Recovery Supervisor at San Mateo, Colleen Cabey, Patelco Board Member. These women shared personal stories of overcoming life obstacles in order to advance in their leadership roles and get the best out of life both personally and professionally. Copies of Get Off Your But by Sean Stephanson were given out to meeting attendees to read and report back on. This also tied into our "act locally" volunteer initiative as all attendees made a commitment to pay it forward by mentoring or guiding another woman to get off her But before the next meeting.
Kristi Lozano, a 2014 Network Empowerment Grant recipient, from San Mateo Credit Union, presented on her Scholars Program. This program seeks to bring financial education, college readiness and leadership skills to girls through various workshops and presentations. Kristi explained that most of the girls in the program do not have access to professional networks and her initiative seeks to fill that gap, with hopes that they will become women leaders themselves. Sisters were encouraged to get involved with the program, either as e-mentors or volunteers. Please contact Kristi at 650-562-1233 for further information.
The next Bay Area Sister Society meeting will be September 10th, sponsored by and held at San Mateo Credit Union on 350 Convention Way in Redwood City, CA 94064. Please contact Colleen Cabey, Cynthia Held or Linda White for more information.


Sister Society Group Leaders Strategic Planning Session- Dec 4-6, 2013

Our US Sister Society leaders met in Las Vegas to plan for 2014.