Recent Network Events:
Annual Leadership Forum - July 12

Women in Leadership Webinar Series - July 9

Thanks so much for joining us last Thursday (7/9) for the Women in Leadership webinar cohosted by the Filene Research Institute featuring Kathy Garner from Catalyst Corporate credit union and Susan Mitchell from the Global Women's Leadership Network.
A link to the recorded webinar: Women in Leadership with Kathy Garner
A link to the research: Women in Leadership: Obstacles and Opportunities
Michigan Sister Society Meeting - May 4
We would like to thank those who attended our meeting up in Traverse City, MI, in conjunction with the AC&E conference on May 4, 2015. A special thanks to Catherine Roberts, as our guest speaker and to our meeting sponsors CU*Answers, Lake Trust and PSCU. Additionally, we would like to recognize the Michigan Credit Union League for acknowledging our meeting in the AC&E materials and for providing us with space for the meeting. We could not have had the participation that we did without our sponsors' support.
Previous World Council Board member Catherine Roberts' presented on her journey within the global credit union movement. She shared details on her travels abroad, and her involvement in the World Council projects, which was both motivational and enlightening.
Twenty lucky attendees received a copy of "Knowing Your Value; Women, Money and Getting What You're Worth" by Mika Brzezinski. We look forward to providing our attendees with copies of similar, thought provoking literature at future events.
As always, the buzz of our Sisters networking created a palpable energy in the room. A brief history of the Global Women's Leadership Network, along with instructions on where to join and how to connect was provided by our leaders: Jane Kile, Jody Karnes and Vickie Schmitzer.
Tagum Cooperative Sister Society Kickoff Meeting - May 22

The fourth Sister Society in Asia and second in the Philippines was organized at Tagum Cooperative in Davao on May 22, 2015. Leaders of the Asian Confederation of Credit Unions (ACCU) Andrew So, founding President; Ranjith Hettiarachchi, Technical Advisor; and Elenita San Roque, CEO, welcomed 50 attendees and inducted into office the officers and members of the Tagum Cooperative Sister Society.
Officers include: President Norma R. Pereyras, Vice President Monica Salido, Secretary Fe Adlawan, Treasurer Angelina Collis and Auditor Gertrudes Yap. Additionally Arlene Adlawan-king, Leslie Canuto and Kate Antoinette Umayam were inducted as Public Information Officers and Venus Tabanao, Kathryn Ann Salazar, Clygene Dairo, Joan Almendras and Ann Nieves Malingin were inducted as members of the Secretariat.
President So defined leadership saying "to lead is to serve" and challenged attendees to "lead for others" whilst making a difference both for and with other women. With roaring enthusiasm at the event, So is confident that the Sister Society members can live up to the expectations of the Network and the community.
CEO San Roque presented on her experience with the Network and explained that it is about "personal and professional development as well as cooperative development." Sister Society Leader Norma Pereyras is excited to empower members of the Tagum Cooperative through this new global connection which "works to our advantage because we will be able to expand our network of good opportunities in the world." Davao del Norte Vice Governor Victorio Suaybaguio was also in attendance and is pleased at the launch of the Tagum Cooperative Sister Society which he describes as "a catalyst of empowering more women in Tagum city and in Davao del Norte."
ACCU works closely with WOCCU to promote the establishment of Sister Societies in Asia. The first Sister Society was established in Paglaum MPC (Philippines), second in Nepal, third in Thailand and fourth in Tagum Coop.

Arizona Sister Society Meeting - May 19
Congratulations for a terrific gathering May 19th of the Arizona Sister Society to our TruWest Credit Union hosts! Thanks to the great work by Sarah Hancotte & Karen Bejarano, and to CEO Dan Desmond for a generous $250 donation to Global Women's Leadership Network for Arizona Women's Education & Employment (AWEE).
Donations to AWEE totaled $350, plus $50 in Target gift cards and 140 items of apparel, jewelry, accessories, and shoes. Additionally, $300 was donated for Nepal Earthquake Relief Fund.
Speakers/activities included Doreen Pollack from AWEE offered an introduction to the job search/resume assistance, mentoring & wardrobe resources they provide — and is a great option for volunteering, as well as assistance for career development. The nice part is that there is no requirement for registering as having economic or other need to obtain assistance with education or employment! Check out
www.awee.org
for more information.
Garret Westlake, PhD. from the Office of Innovation & Entrepreneurship at ASU's Skysong — discussed their program whose goal is to create opportunity to develop leaders in proportion to the gender/ethnic makeup of the entire community. He talked about programs to support women entrepreneurs and reminded the group of the importance step out and take a chance — because women tend to hold back. Remember to LEAN IN!!! Email SparXX@asu.edu to learn more about how to contribute.

Utah Sister Society Kickoff Meeting - May 1

A group of 55 men and women attended a session held in conjunction with the Utah Credit Union Association Annual Meeting and Convention in Layton, Utah, on 1 May 2015. The session was titled Women Serving as Credit Union Leaders.
Brianne Hurford, WOCCU Foundation Communications and Development Manager, explained how the Global Women's Leadership Network of the World Council works to improve women's access to financial services worldwide, and provides resources and opportunities for women to make a measurable difference in their credit unions and communities. She invited women attending the session to consider joining the Network and participating in the upcoming GWLN Forum to be held in Denver in July 2015.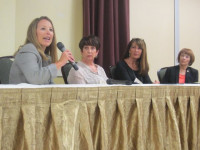 A panel discussion followed with three outstanding female credit union executives from Utah who described how they identified and developed the unique skills and talents, which have enabled them to make solid contributions to the success of their respective credit unions. Panelists were: Trena Anderson, Vice President at Deseret First Credit Union; Sheryl Cox, Vice President at America First Credit Union; and Vickie van der Have, President and CEO of Weber State Credit Union. The panel discussion was moderated by Susan Rather, Secretary on the Board of Directors at Deseret First Credit Union.

Following the panel discussion, Cheryl Marie a representative from PSCU, the Network's Proud Sister Society Sponsor, conducted a raffle drawing and gave away three books as door prizes.
The Utah Sister Society was launched at this session with Susan Rather, a GWLN member since 2010, named as Group Leader. Susan spoke about her connection with the credit union industry and how she became passionately involved in the Network. She spoke highly of the Network's Flagship event, the annual Forum and encouraged attendees to register for the event which is taking place in nearby Denver, Colorado, this year. Susan Rather is looking for support in launching this Sister Society. If you are interested in co-chairing or hosting the next meeting please email Susan or the Network.
CA Central Coast Sister Society Kickoff Meeting - April 29
Roxy Ostrem and Susan Craig, Sister Society Leaders in Central Coast Sister Society launched our first meeting and it went very well. We had significant attendance and the guest speakers did a great job of giving us historical perspective and an exciting vision of the future.
Sue Mitchell, Chair of the network gave us the background on the GWLN and the vision for future engagements and networking. We brainstormed the impact that we can have individually and how important it is to write our own elevator speech - our story to share with others.
Joe Schroeder, CEO of Ventura County Credit Union and host of the session gave an inspiring speech about gender equality and the importance for all of us to engage both men and women in the dialogue, promoting and advocating for each other. He mentioned that each of us should have a "personal board" of advisors that help us through different aspects of our lives - professional, personal, industry, discipline oriented, etc. He also said in his bold way, that men that are not considering women as board and executive management team members, are "stupid" - there is so much to be gained through diversity.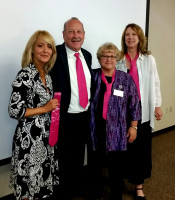 Bonnie Weigel, President/CEO of Food Share, Ventura County' Food Bank, engaged the room in a discussion about the importance of working together to feed people, families. 68% of women ask for help as they are not too proud. One in six Americans are short on food, one in five children. The fastest growing segment is seniors. 78% of people who get assistance are working but it takes $25/hour to make ends meet. They consider a four legged stool as the solution - faith based, non-profits, public/government and business partners.
GWLN Central Coast Sister Society donated $500 to Food Share and discussed developing other commitments to feeding the hungry in our national chapter development.
Networking exercises were conducted around vision and individual participation. The group is very excited to participate and become actively engaged in GWLN. Some of the ladies who had been "on the fence" about going to WOCCU, after talking with Chair Sue Mitchell, made a decision to participate in the Denver event. A survey is being conducted on future topics and feedback.
Our next meeting will be held in October at VCCU's new headquarters in Ventura. If there is someone you feel would be interested in joining or who might want to know more about GWLN, or someone interested in being a guest speaker, please let Susan Craig or Roxy Ostrem know. Remember, we want to be more of a community based group carrying out the mission of "People helping People."
Thailand Sister Society Kickoff Meeting - April 22
Sister Societies are paving their way through Asia!
Today we launched another Sister Society in Bangkok, Thailand. The event was hosted by the Credit Union League of Thailand with 45 female Directors and Managers of credit unions across the country in attendance. Prior to the meeting the Sister Society leaders arranged for a member to sew their own commemorative pink scarves. This allowed the Thai Sister Society to Tie it on to show their support and feel connected to the Network.
The full-day program started by paying respects to H.R.H. Princess Maha Chakri Sirindhorn as she celebrates her birthday this month. The Thailand League's Chairman Mr. Mannat followed with a speech sharing his support of this initiative. Kruewan Chonlanai, the Thai Sister Society Leader and Chairperson of the Asian Women in Co-operatives Development Forum (AWCF) spoke about her experience with the Global Women's Leadership Network and explained the need and value of starting a Sister Society in Thailand.
The CEO of the Asian Confederation of Credit Unions, Leni San Roque followed with an introduction to World Council of Credit Unions (WOCCU), the Network, and the history and purpose of Sister Societies.
A video message by WOCCU Communications & Development Manager, Brianne Hurford showed the attendees that they are now really connected to the global network of credit union women who will continue to guide them and support them in making a difference in their own lives, their members' lives and their communities.
Congratulations and welcome credit union sisters of Thailand!

Nepal Sister Society Kickoff Meeting - April 19
Nepal kicked off the second Sister Society in Asia Bhaktapur. The first meeting was hosted by Mahila Abhiyan SACCOS. Board of Directors, Staff and SACCOS members made up the 30 women in attendance.
ACCU CEO Elenita San Roque and Chief Technical Officer Ranjith Hettiarachchi were also present to show their support and initiate new members into the group with commemorative pink scarves. Ms. Sarita Battarai was appointed as the Nepal Sister Society leader. Sarita is the founding Chair of the SACCOS.

Nevada Sister Society Meeting - April 16
The World Council of Credit Unions Global Women's Leadership Network southern Nevada sister society joined forces with the California/Nevada credit union league southern Nevada chapter. The groups welcomed Natalie Buckel a local leadership expert working with Jimmy John's franchises. The meeting was held at Credit Union 1 on Thursday, April 16th.
The session was filled with dynamic discussions and activities. Assisting management and staff on how to stay motivated, proactive, positive, and happy. Identifying what are the key elements for group motivation as well as individual motivation. We also discussed extrinsic rewards vs. intrinsic rewards. This is an identification process to assist in targeting the best possible strategy for an individual employee. Finally, we discussed implementation of motivation strategies that will provide empowerment to the front of house team members that will alleviate your management team from the day to day issues that arise.
Philippines Sister Society Kickoff Meeting - March 28

The first Sister Society in Asia was launched today in Plaridel, Philippines, at the Paglaum Multi-Purpose Cooperative (PMPC). Nearly 50 attendees were present, men and women alike ranging from Board Members, Paglaum Staff, Center Leaders, and female entrepreneurs.
We learned about the World Council of Credit Unions, and Elenita San Roque's 2014 Empowerment Grant project, which brought funding from the Global Women's Leadership Network to PMPC to launch the Business Development Center and Services.
Our Networking activity forced us out of our comfort zone as we went on a scavenger hunt with attendees from different social groups. Together we danced the macarena, built Korean Stone Towers, and tried to cram our entire group onto a rickshaw amongst other things. Once a rapport was built, we worked as a group to brainstorm our goals and aims for the first Sister Society in Asia.
Two days later, we publically inaugurated our Sister Society at the 4 in 1 Summit in the Plaridel Gymnasium. There we tied on our Pink Scarves and took a pledge to pave the way for future advancement of women's leadership in Plaridel, the Philippines and Asia. Tess Salabas and Juliet Rawlinson were announced as our first leaders and our Sister Society brothers donned pink handkerchiefs to show their support!
MWCUA Networking Breakfast - March 27
The Mountain West Credit Union Association welcomed the World Council of Credit Unions' Global Women's Leadership Network at the association's annual meeting. We had incredible turnout with women leaders from across Colorado, Arizona and Wyoming. Scott Earl, CEO of the MWCUA, opened the session with a heartfelt welcome and his vision for empowering women in the credit union industry. Nicole Brusewitz, VP of Education and Events at MWCUA, also spoke about her engagement in advancing women in leadership and the momentum of the Colorado/Wyoming Sister Society.
Brandi Stankovic, Senior Partner at Mitchell Stankovic and Associates, was the keynote for the session. She led the group in interactive dialogue and discussion regarding the MOST VALUABLE PEOPLE; specifically how to be an MVP and how to inspire the MVPs in your life. In business, we refer to MVPs as our top performers; male and female leaders who have that magic stuff or mojo that drives them to achieve success; the ones who impact the bottom line or who can turn around a low-performing team and help them achieve their goals and exceed their targets.
During the session, Brandi also shared the efforts of the World Council of Credit Union's Global Women's Leadership Network that strives to provide women with the opportunity and resources to make measurable differences in each other's lives, as well as in the lives of credit union members and in their communities.

Governmental Affairs Conference Networking Breakfast - March 11
Trinidad and Tobago Sister Society Update - March 8
Happy International Women's Day!

Congrats to those who took the opportunity to participate in the Leadership program with our facilitator Judy Oxley-Fullerton of the John Maxwell in November and December. We went through the 21 Irrefutable Laws of Leadership and prepared ourselves for the next challenge.
Last October, I sent out a preliminary costing of approximately TT$12,000 per member to attend WOCCU in Denver, Colorado on July 11-15 2015. This figure includes the GLWN fees as well as WOCCU. Please let me know if you are interested in attending and sharing accommodations.
This is a wonderful opportunity for those members who may not be selected by their Credit Union but wish to experience global connections.
Again, I am appealing to you to help us meet our mandate to get local credit union women together, exchange ideas, impact local credit unions and share information with other network members .
Monthly meetings are held on the 2nd Wednesday of the month. Please contact Gail Rajkumar for more information. Feel free to suggest another date or communication method that suits most of us. We really want to hear from you and to encourage your respective Credit Unions to support.

DC Sister Society Meeting - February 25
The DC Sister Society kicked off our 2015 season on February 25 at CUNA Headquarters in Washington, D.C. The meeting was well-attended by industry experts and consultants, as well as credit union professionals in executive and senior management positions.
Bryn Vaupel, co-chair, provided an overview of the World Council of Credit Unions and the Global Women's Leadership Network (GWLN), including a review of the program goals and the process for membership. Bryn also announced the DC Sister Society 2015 Leadership Program topics and schedule, intended to provide value to credit union women as they advance personally and professionally. Attendees also received valuable information from Brianne Hurford, Communications and Development Manager, on the World Council and GWLN structure and communications plan.
Sarah Cooke, co-chair, provided an overview of the Society's selected charity, Wider Opportunities for Women (WOW). WOW focuses on good jobs, economic security, gender equity, economic empowerment and retirement for women. More information regarding the organization's specific needs and the ways in which the Society members may contribute will be provided at future meetings.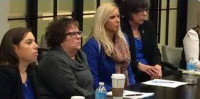 The first topic in our series, Increasing Our Emotional Intelligence and Self Awareness, was then presented by Laurie Maddalena of Envision Excellence. Laurie distributed the results of the individual attendees EQ-i Assessments and provided valuable insights into understanding your individual type along with sound leadership takeaways. Ideas and experiences were shared by all participants as they networked throughout the morning. Suggested reading included The Precious Present by Spencer Johnson, Search Inside Yourself: The Unexpected Path to Achieving success, Happiness and World Peace by Chade-Meng Tan, and 50 EI Exercises For Biz Managers.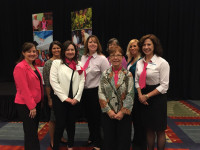 The meeting adjourned with a reminder of the next meeting scheduled for April 22 at The Partnership FCU in Arlington, VA. The next topic in our series will be Leading and Living at a Strategic Level. Key components will include critical skills and competencies for executive positions, strategies for being a respected and influential leader and carving out time to plan, network and build relationships. All participants were encouraged to send their Twitter handles and to attend the GAC breakfast on March 11, sporting their pink ties in support of the GWLN. Evaluations for the session will be sent to all attendees in an attempt for continuous program improvement.

Colorado Society Meeting - February 24

President and CEO of Elevations Credit Union, Gerry Agnes, welcomed over 30 female executives to the credit union and spoke eloquently about the importance of the Global Women's Leadership Network and World Council. He proudly noted that Elevations Credit Union has earned the Malcolm Baldrige National Quality Award, the highest presidential honor for performance excellence in innovation, improvement and visionary leadership. Elevations is the first credit union in the country to win the award.
This commitment to leadership development was evident through the Sister Society meeting. Nancy Herbert, Board Member of Elevations, started the networking by introducing the members to Safehouse Progressive Alliance for Non-violence, Suzzanne Painter, who discussed domestic violence and the impact Network donations will have in supporting women within the community.
Susan Mitchell, founding Chair of Global Women's Leadership Network, was introduced by Nicole Brusewitz, Mountain West Credit Union Association. Susan gave us the background of Global Women's and the history of Dr. Brian Branch's, CEO of World Council, purpose in starting a network of credit union women. It was an inspiring look at how we can make a difference, globally and locally. She noted that there are now more than 700 members in 53 countries.
Calyn Ostrowski, Worldwide Foundation Executive Director, presented key initiatives from World Council and gave the members a look at events that are planned for the upcoming year, as well as a background on the Scholarship and Empowerment Grant programs and the strategic vision for the Network.
The group then engaged in networking exercises regarding leadership transitions, telling their personal stories, advocating for themselves, asking for a seat at the table and a robust discussion on "why" women are not stepping forward.
We discussed becoming the "host" Sister Society for the Denver World Credit Union Conference and everyone was very excited. We encouraged everyone to join as members, so they can participate fully in the opportunities presented through the Network.
Thanks again to Elevations Credit Union and Mountain West Credit Union Association for your support!

Arizona Sister Society Meeting - February 10
Thank you to CEO Jane Dobbs and her staff at Canyon State Credit Union for sponsoring and leading this event. Thirty two women were in attendance as we met at Phoenix Metro Tech, a point of pride in the area which internally operates its own student-run credit union branch with Canyon State. Metro Tech has been recognized as an "A+" School by the Arizona Educational Foundation, and is a magnet for creativity. Culinary students prepared today's continental breakfast and lunch and the florist program created our table decorations. What an inspiration!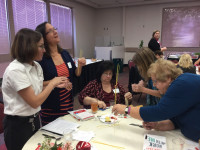 Guest speakers included: Metro Tech Principal Kate McDonald who gave insight into her journey as a leader in business and education; Rachel Rogoff from the Child Crisis Nursery, who talked about their child prevention services and strategies; Marquetta White and Debbie Meshey from Arizona Credit Union who provided an update on the Global Women's Leadership Network; and Sue Liebah who spoke about PSCU's generous support and contributions to the Network.
We were truly inspired by our featured speaker Jane Dobbs, the President and CEO of Canyon State Credit Union. She spoke about her vast experience within the financial industry, what she found difficult, and what she made her thrive. Jane shared her perspective and strategies for balancing family and an entrepreneurial venture. She generously distributed copies of the book How to Win Friends and Influence People—a timeless classic on navigating the business world which Jane feels helped her develop into the leader she is today.
We hope to see you at the Networking Breakfast at the Mountain West Credit Union Association's annual meeting in Phoenix on March 27 or at our next Sister Society meetings on May 19 or October 21. Please contact Marquetta White or Debbie Meshey for more details.
CA Bay Area Sister Society Meeting - February 6

Colleen Cabey called the meeting to order at 11:15 and welcomed 15 attendees. After brief introductions we heard an update on the Network's national and international endeavors by the World Council office. We were reminded to register and attend the GAC Networking Breakfast on March 11 in D.C. and the Network Forum on July 12 in Denver.
Cynthia Held, Marketing Director at San Mateo Credit Union, introduced our speakers: Linda White, CEO of United Health, Monica Tinsley-Smith, Asset Recovery Supervisor at San Mateo, Colleen Cabey, Patelco Board Member. These women shared personal stories of overcoming life obstacles in order to advance in their leadership roles and get the best out of life both personally and professionally. Copies of Get Off Your But by Sean Stephanson were given out to meeting attendees to read and report back on. This also tied into our "act locally" volunteer initiative as all attendees made a commitment to pay it forward by mentoring or guiding another woman to get off her But before the next meeting.
Kristi Lozano, a 2014 Network Empowerment Grant recipient, from San Mateo Credit Union, presented on her Scholars Program. This program seeks to bring financial education, college readiness and leadership skills to girls through various workshops and presentations. Kristi explained that most of the girls in the program do not have access to professional networks and her initiative seeks to fill that gap, with hopes that they will become women leaders themselves. Sisters were encouraged to get involved with the program, either as e-mentors or volunteers. Please contact Kristi at 650-562-1233
650-562-1233 for further information.
The next Bay Area Sister Society meeting will be September 10th, sponsored by and held at San Mateo Credit Union on 350 Convention Way in Redwood City, CA 94064. Please contact Colleen Cabey, Cynthia Held or Linda White for more information.
Past Networking Events: