Recent Network Events:


Malawi Sister Society Visits Children's Hospital - December 19
As part of the Global Women's Leadership Network's mission to make their community a better place, the Malawi Sister Society visited the orthopedic ward of Queen Elizabeth Central Hospital in Blantyre. In addition to good cheer, they brought with them soap, sugar, jelly, juices, and Kamba puffs (cereal for the kids). They met with patients, sang songs, and helped to bring a smile to everyone's face during the holiday season.
DC Sister Society Raises a Glass and Funds for Suited for Change - December 8

COLUMBIA, Md. – The DC Sister Society of the Global Women's Leadership Network hosted a fundraiser wine tasting to benefit Suited for Change, raising nearly $1,000 for the charity.
The event, which took place Tuesday, Dec. 8, featured The Wine Coach Laurie Forster presenting YOU Uncorked, her story of finding her passion and making it her profession. The Maryland & DC Credit Union Association hosted approximately 30 credit union and industry professionals for the benefit. The event was sponsored by CUNA and CUNA Mutual Group, with support from BC Consulting, Credit Union Times, Department of Labor FCU, and Envision Excellence.
Jenny Phillips, development and communications associate of Suited for Change, was in attendance and shared that the event raised $975 for her organization. Suited for Change is a Washington, DC-based charity that provides suits and job preparedness skills for underprivileged women. To learn more, visit
SuitedforChange.org
.
"World Council's Global Women's Leadership Network has achieved over 1,000 members globally and had real impact through scholarships, empowerment grants and local community engagement through credit union women volunteerism," GWLN Chair Susan Mitchell of Mitchell, Stankovic, & Associates said. "Congratulations to our DC group leaders for advancing women in leadership. We toast your success."
The DC Sister Society, founded in 2013, hosted three previous meetings in 2015, focused on building a foundation with an emotional quotient assessment, learning to lead and live at a strategic level, and strategic networking. Sarah Snell Cooke, Credit Union Times publisher/editor-in-chief, Bryn Vaupel, principal of BC Consulting, and The Partnership FCU COO Bonnie Ortiz chair the organization. For more information on upcoming DC events, please contact scooke@cutimes.com.
Nevada Sister Society Meeting - December 2
Network Manager, Brianne Hurford gave a brief introduction to the World Council of Credit Unions, updated the group on the progress of the Global Women's Leadership Network- 1000+ members, 27 Sister Societies in 11 countries, 37 scholarships, 5 Empowerment Grants, and $1M+ raised since inception in 2009. She highlighted the impact of our 2014 Empowerment Grant projects and encouraged the group to get involved in our 2015 projects via email, Skype, telephone or in-person. Brianne asked attendees to save the date for the GAC Networking Breakfast on February 24th 2016 and the Network's Leadership Forum on July 17, 2016. We are running a membership drive through the end of the year, if you nominate a friend to join or renew their membership you will both be entered into our prize drawing for tickets to either event. Check out our recent Network Newsletter, Credit Union World E-magazine, or CUwomen@woccu.org for more information.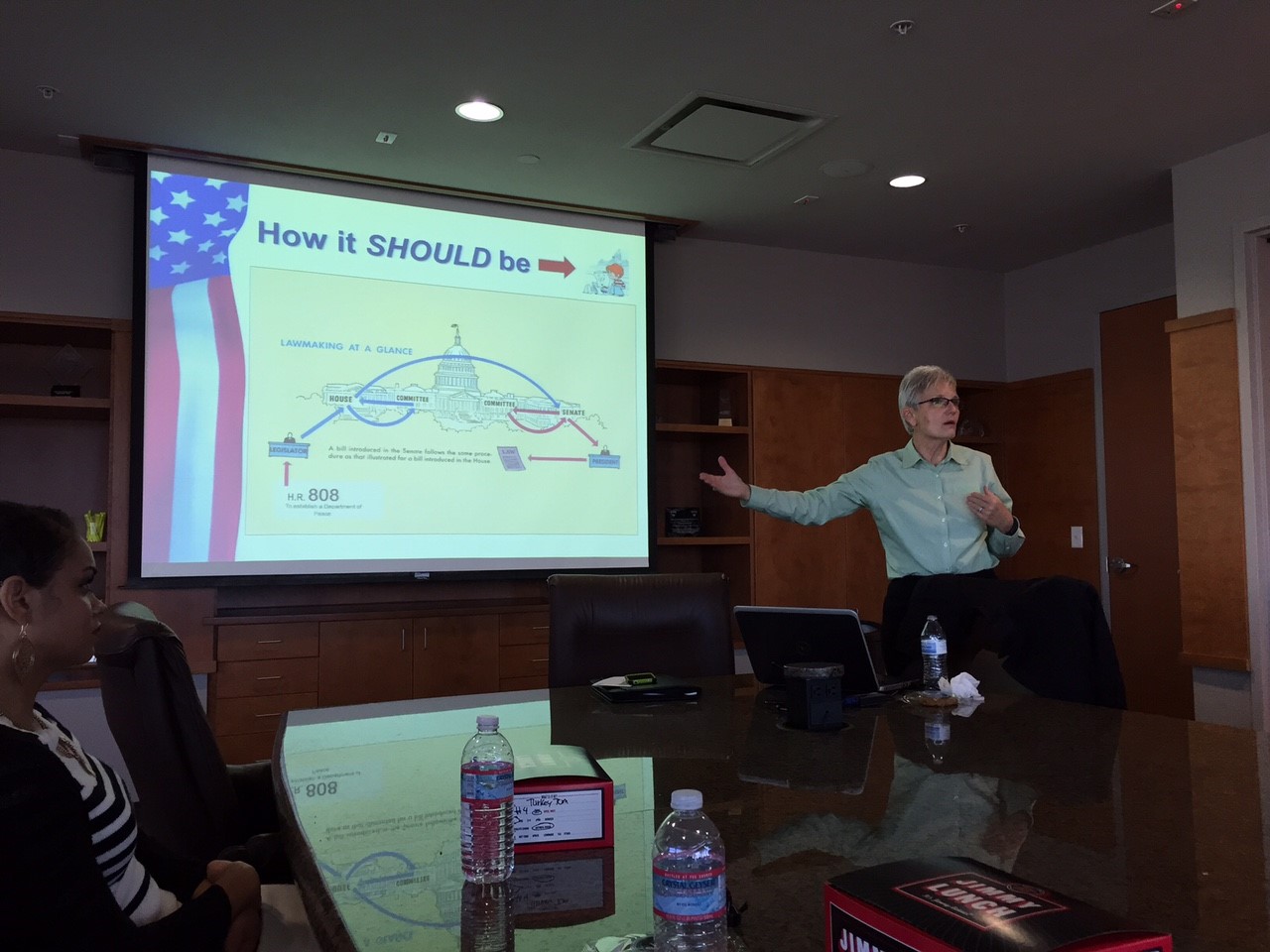 Sue Longson gave a short presentation on Civics 101, inclusive of a School House Rock video entitled "I'm just a Bill." The key take-away from her talk was to encourage folks to get involved and not be anxious about chatting with our State and Federal legislators as no one knows our story better than we do! The League will assist in arranging meetings and provide a script, if necessary. When meeting with our legislators, we should ALWAYS have an ask, and NEVER mention our PAC or a campaign. In Nevada, we interview candidates for political races to introduce ourselves and credit unions, this cements relationships from the beginning, which leads to support of our cause from both sides. Get involved: it's fun and will have a lasting impact on our movement!!
Brandi Stankovic talked with the group about the future of the Nevada Sister Society. The group decided that in 2016, we would like to focus on financial literacy. We will continue to partner with the League and chapter for some events as well.
Women's Luncheon at REACH Conference - November 5
GWLN EVENT SOLD OUT! The Global Women's Leadership Network luncheon, generously sponsored by Wescom Credit Union, had over 100 men and women leaders from boards, business partners and credit unions attend to learn more about this incredible World Council initiative.

Jane Wood, Southern California Sister Society Co-Leader and EVP of Wescom, welcomed everyone and introduced our special guests from her Board, Virginia Panossian, Chair and Norberta Noguera, Vice Chair. Susan Mitchell, Chair of GWLN, gave an overview of the World Council of Credit Unions and Brian Branch, CEO's vision for GWLN. This global mission, providing credit union women the opportunity and resources to make a measureable difference in each other's lives, the lives of members and within their communities, has energized people around the world to take action. We announced over $1,000,000 in contributions, 950 members from 53 countries, 37 scholarships, 5 empowerment grants, 26 Sister Societies in 11 countries and hundreds of community outreach programs that help women advance their situation.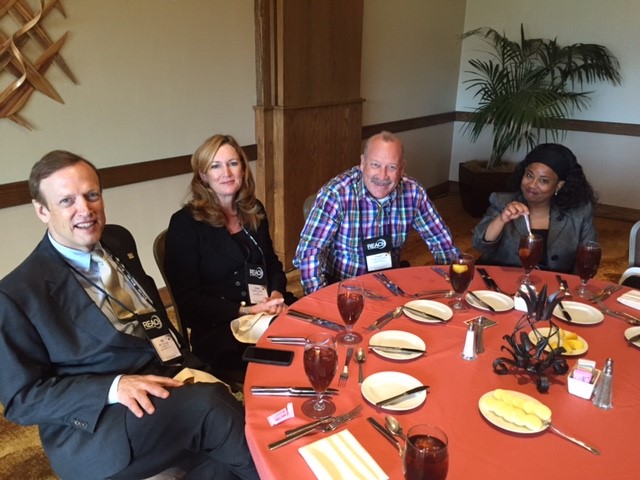 Brandi Stankovic, US Sister Society Ambassador for GWLN, shared statistics regarding the impact of the Sister Societies throughout the US and then engaged the audience in networking regarding emotional intelligence and how men and women approach situations. Very enlightening table topic with a robust dialogue on the importance of this initiative. Brandi shared a video that left some with tears and others moved to "invite their daughters" to a session in the future. The announcement was made that there will be global engagements in 2016 with World Council and GWLN.
Thanks so much to the Jane Wood, EVP and Virginia Panossian, Chair and all of the Wescom leadership team for sponsoring the event and to our Co-leader Eileen Rivera for selling ties, engaging with members and encouraging the networks. We also want to give a real shout out to Larry Palochik, Diana Dykstra and all of the CCUL/NCUL staff for their support and generous promotion of the Network. It was great to be a part of this magical meeting that will help us advance GWLN initiatives.
Arizona Sister Society Meeting - November 4
The Arizona Sister Society met at Arizona State Credit Union for the second time since its inception in May of 2013. The event, with 25 in attendance, was led by Debbie Meshey, Vice President of Associate Engagement and her team. CEO Dave Doss, an early leader in support for the Global Women's Leadership Network, offered his welcome and expressed his dedication to the organization's goals.
Martha Rozen, Board Director at Arizona State Credit Union reported on her experiences in Peru, where she traveled in October to help to start a Sister Society. She also talked about FENACREP (Peru's version of CUNA) and a small loan program that serves women of limited means.
Marquetta White, Board Director at Arizona State Credit Union spoke about her Leadership Story through her career and experience as a volunteer. She was able to offer insight on developments in employment for women and progress in technology - as well as taxation, finance and credit unions -which has given her a wide spectrum of leadership experience. She encourages women to step into leadership positions to ensure that women's voices are heard in boardrooms. She also talked about the rewards of her involvement with the Network, which led to being awarded the 2015 Athena Award - a testament to the value of teamwork within the Arizona Sister Society.
The group assembled approximately 300 personal care bags for St. Joseph the Worker, a local charity dedicated to transforming lives through employment. Candace Sherwood, from the organization talked about the ways they help homeless and unemployed people improve their lives. It was a moving discussion.
The meeting concluded with a discussion on strategies to advance the AZ Sister Society in the coming year. That input will be used to create a survey to ensure the support and agreement among the full membership.


Past Networking Events: