Recent Network Events
Southern NV Sister Society Meeting - November 4
The NV Sister Society had a wonderful meeting at the College of Southern Nevada while completing a community service project for students in the Department of Business. Students were inspired by leaders to change their own behaviors and take control of their futures. Guidance was offered within 3 main areas: Credit Union Difference, Resume Review, and Interviewing Skills. The students raved about the tips and techniques that were shared in the meeting. They loved having one-on-one time with the mentors. They also loved the sample resumes, interview techniques and professional behaviors shared. The NV Sister Society truly made a difference in the lives of young people in Southern Nevada.
During the business meeting portion of the session we discussed opportunities for 2014. The group expressed a strong interest in developing projects and contributing to our communities, in addition to having opportunities to network and nurture leadership skills. We decided on the following:
The first meeting of 2014 (in either January or February) will be a professional development session focusing on Lean In. We will ask Network members to bring someone from their organization who is looking to advance into a leader by behavior, not necessarily title.
We will also reach out to those organizations who haven't had the opportunity to attend. We will read the book prior to our next session and discuss the importance of these issues to leaders in Nevada and across the globe.

The following meeting (summer 2014) we are asking a board representative from CCCU to speak to us about her journey and leadership experiences.
Thank you again for a wonderful session. Looking forward to working together in 2014!
New York/New Jersey Sister Society Meeting - October 30
The New York/New Jersey Sister Society hosted a very successful meeting with over 37 women in the credit union industry! Laurie Benjamin and Robin Meyers from Melrose Credit Union presented an update of the Global Women's Leadership Network followed by a discussion of the book, "Lean In" facilitated by Brandi Stankovic, MSA. The group was very engaged in the dialogue about advancing women in business and in life. After the session, the attendees enjoyed a beautiful view of Manhattan and a Halloween themed wine and cheese reception hosted by United Nations Federal Credit Union
Trinidad and Tobago Sister Society Meeting - October 24
We had a great meeting on October 24 and came up with some suggestions as we move forward. We have received completed membership forms and commitments from nine other ladies, so by our next meeting our numbers will more than double. We have decided that our next meeting will be held in January, at the same venue.
We discussed three great project ideas, which we will develop further at our next meeting. We also had a brief Skype conversation with Kathy Chatier who is currently in Madison. She gave some background on how the Network started, and also discussed the importance of the Sister Societies in their own right.

All in all, the Trinidad and Tobago Sister Society is off to a great start!
Michigan Sister Society Meeting - October 17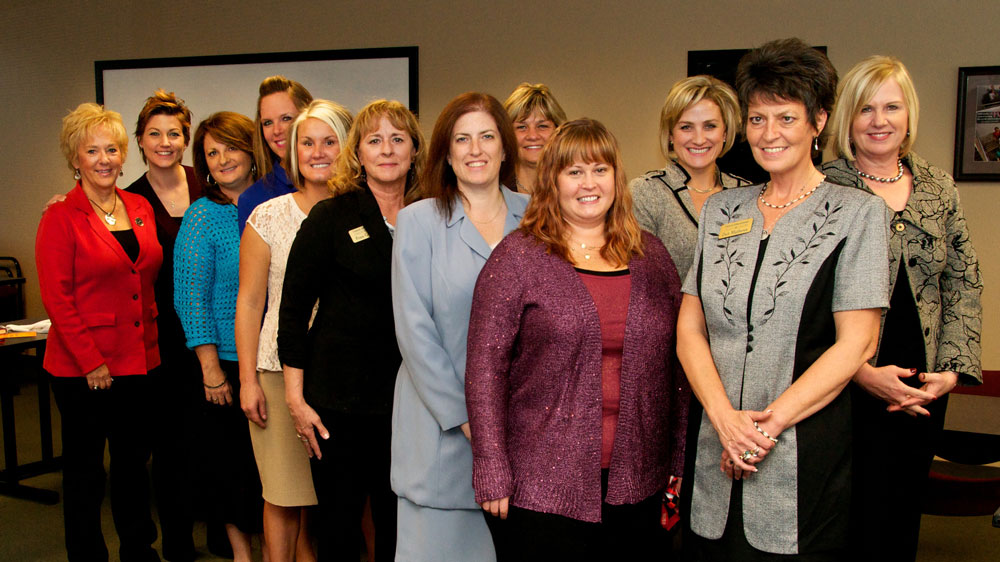 It was reported that the Michigan Sister Society meeting was fantastic! Brandi Stankovic, Partner of MSA, led an educational and networking session on the book, Lean In, by Sheryl Sandberg. Copies of the book were given to participants. Sisters also brought donations for a charitable program that offers business attire and accessories to women who are returning to the workforce for job interviews. Members networked, discussed, and got inspired by the amazing work of other Sisters in this industry.
Looking ahead, Michigan Sister Society is planning to:
Deliver women's clothing
We are asking CU*Answers employees to bring in additional women's work clothing next week.
Katie and Jody will then deliver to the Women's Resource Center of Grand Rapids.
Follow up with attendees
Meeting recap
Include group photos
Include slides from Brandi (org chart and 8 questions to ask ourselves)
Next meeting scheduling in Pontiac (with optional dates).
Discuss moving our next meeting location to a central Michigan city to see if we can get better participation from around the state.
Congratulations to the Michigan Sister Society on a successful meeting!
Arizona Sister Society Meeting - October 9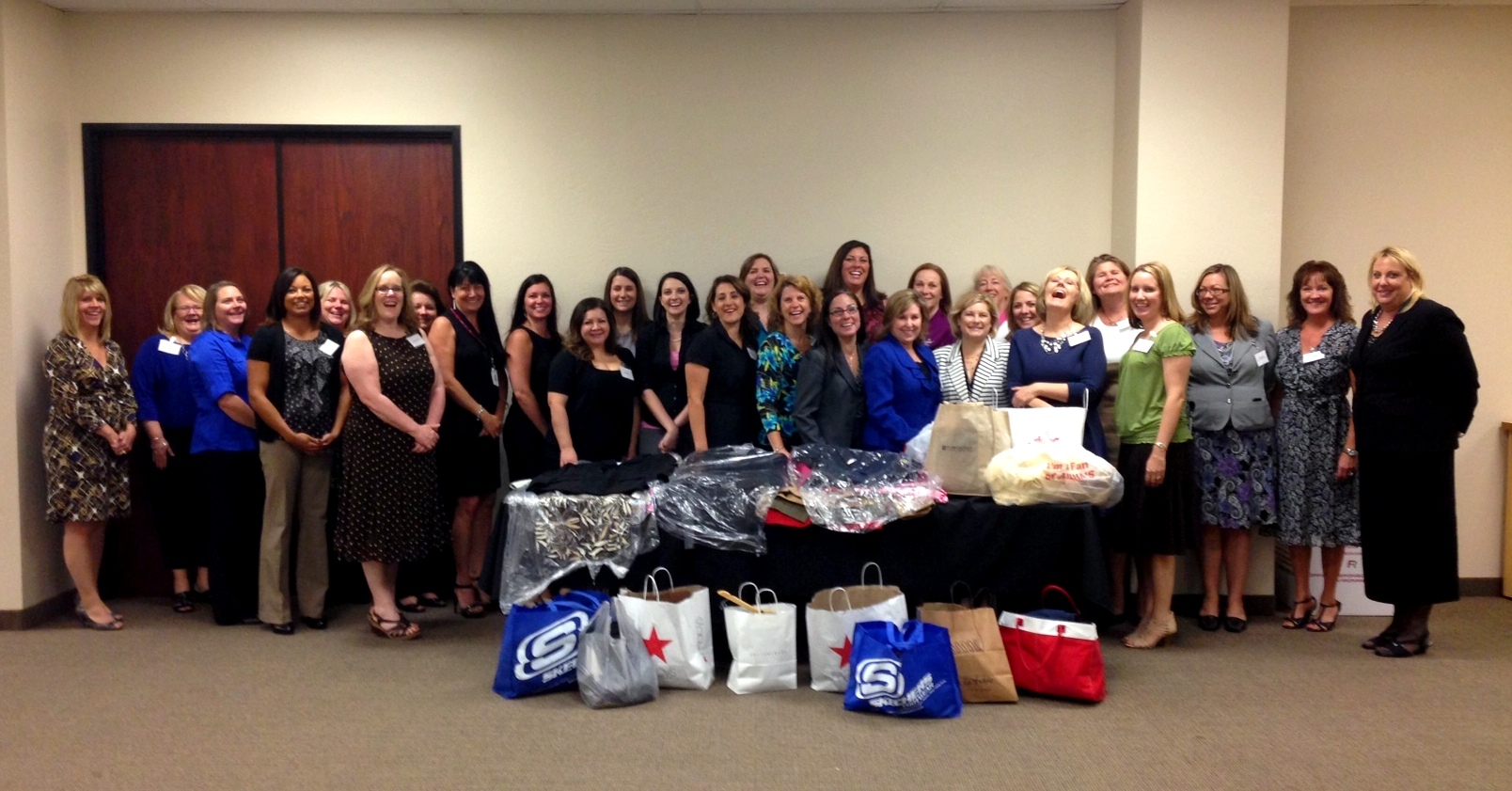 In May 2013, Arizona became a leader in the development of the Global Women's Leadership Network's Sister Society with our inaugural meeting at Arizona State Credit Union. We hit the ground running with 30 participants. The group expressed a strong interest in developing projects and contributing to our communities, in addition to having opportunities to network and nurture leadership skills.
Those who attended:
Brought a donation for Fresh Start's program that offers business attire and accessories to women who are returning to the workforce for job interviews.
Met credit union professionals - networked and were inspired by the amazing work of our Sisters in this industry.
Learned about resources in our community that offer financial literacy/coaching, assisted in empowering women and families in our community and build new credit union membership.
Determined the direction of the Sister Society in Arizona.
Many thanks to Kellee Dominguez and Bronwyn Medley for hosting this event!

Bay Area Sister Society Meeting - October 2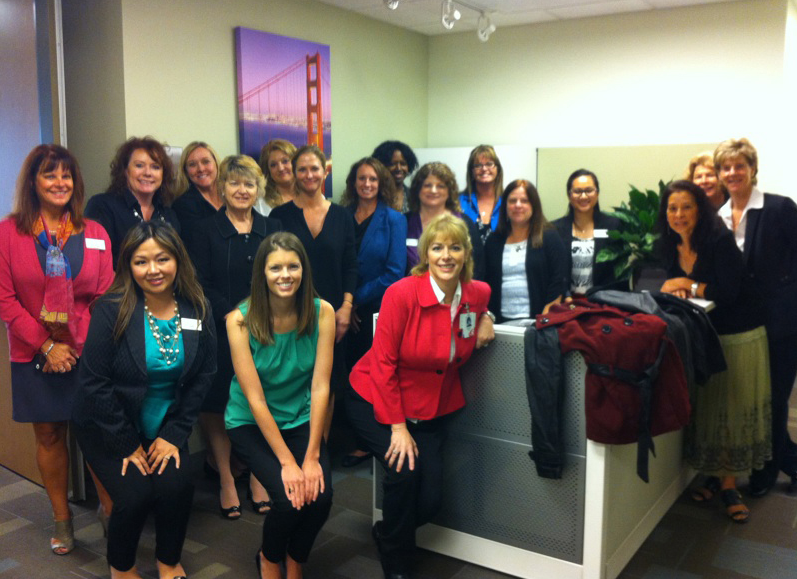 The Bay Area Sister Society meeting on October 2nd kicked off with a World Council Global Women's Leadership Network update to provide the local network members, as well as representatives from the Ontario and Alberta Canada Sister Societies, an overview of our momentum and results for GWLN in 2013. It was a real pleasure to meet our Sisters from Canada via conference call. We are expanding our sharing and learning experiences with these connections.
The educational topic and presentation was on Women's Wealth Initiative, a program developed by San Francisco FCU staff. It was designed to identify the comfort level that women of all ages within the community had about specific topics related to investing, budgeting, saving for retirement and more. Once the comfort level was determined, representatives from the credit union could then target topics and specific information to discuss with them.

According to several articles referenced, there is a stigma that women must overcome which suggests that women in general are scared to address wealth management issues, lack confidence to manage investment or negotiate large purchases, such as homes or cars. The discussion included what we as women should do to overcome those stigmas and prepare for the interactions.

Future Discussion Topics:
Speaker topic: Women and Investing — what we all should know (resources currently used by Patelco and SFFCU will be contacted to speak)
Women and Communication — maximizing our influence (Lecia volunteered to coordinate information)
Best practice discussion — how to develop the next generation of leaders (open forum discussion — each person to bring their best practice and ideas)

Other Ideas for networking presented include a female golf group in the Bay Area.
Learn to play or improve your skills in a stress and shame free environment — get together with sister society participants and hone your game skills, while taking advantage of the opportunity to network
SMCU currently has an email group, FLOGO (For Ladies Only Golf Outing), for anyone in the vicinity of the peninsula. Participants were encouraged to join the email list or start their own group if the peninsula is geographically inconvenient.
Congratulations to the Bay Area Sister Society!
Jamaica Sister Society meeting - September 27
Linda Miller, leader of the Jamaica Sister Society, reported that the meeting went very well and their members are planning to implement a project with the YWCA's girls before the end of October this year!

Fiji Sister Society Meeting - September 24
Servus Sister Society Meeting - September 24

Servus Credit Union Sister Society recently held a viewing for its members on the Jennifer Siebel Newsom documentary called "Miss Representation." We had a terrific turnout from our Network members and started a great conversation around women's portrayal in the media. We had great conversation in each region — particularly about now having a sense of awareness to how women are portrayed in the media. We are also looking forward to Jennifer Siebel's next documentary on boys/men which we are hoping to show as well once it's out. We've also had requests for people to take the DVD's home and watch it with family and friends, so we'll be placing the DVD's in our corporate library.
Congratulations Servus on a successful meeting!
First-Ever D.C. Sister Society Meeting - August 21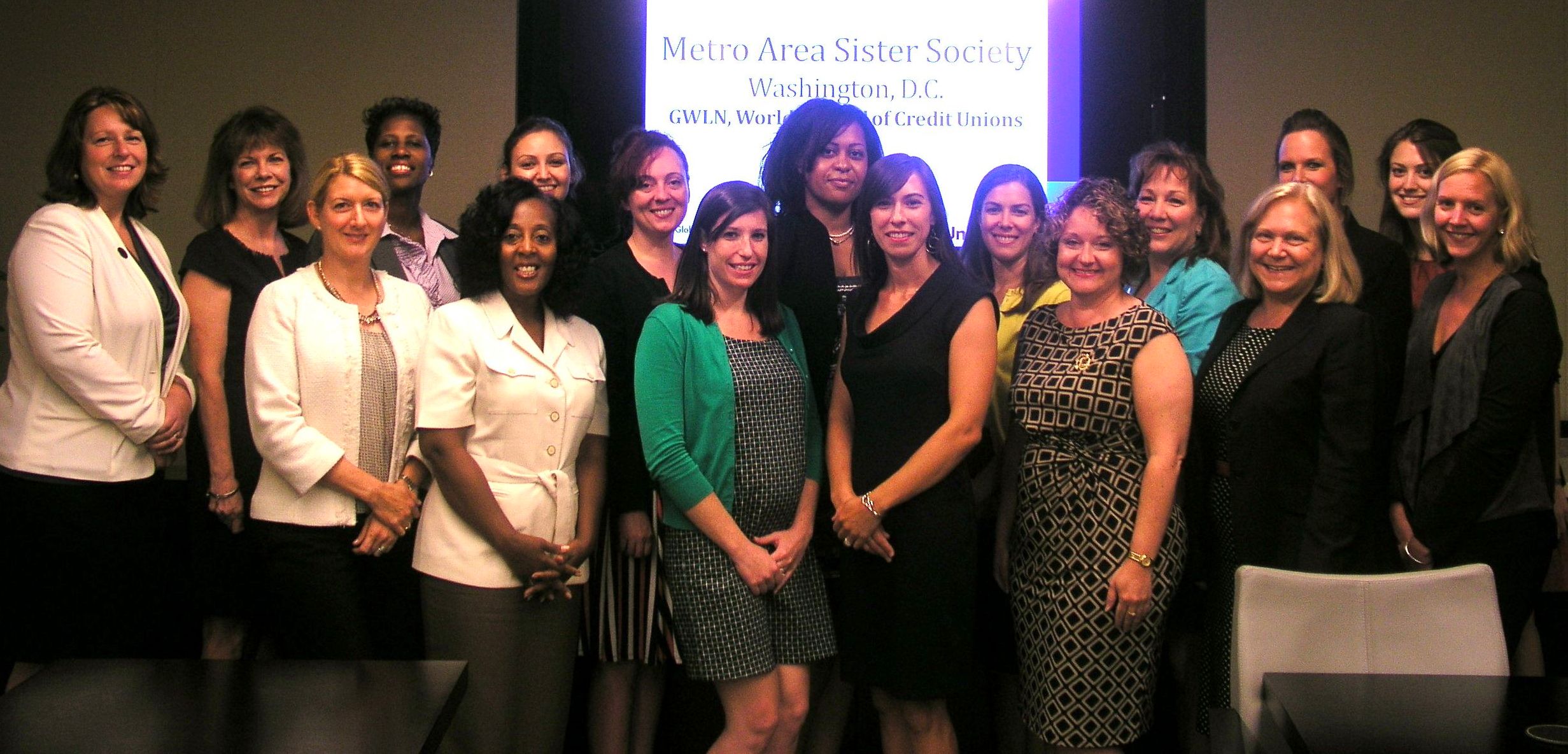 Thank you to all who participated in the first ever D.C. Sister Society Meeting! There was great energy and commitment flowing through the room, and we are very excited for this group of women to join the Network. At the CASS (Capitol Area Sister Soceity) meeting, the group determined their main goals as:
Creating networking and learning opportunities
Helping advance women within the credit union industry through mentoring and other avenues
Health in nutrition, exercise and financial fitness, as well as health of cooperatives as a whole
Offering education by creating videos and volunteering in schools
The women also discussed potential action items including adopting a credit union from another country, getting involved in Busia Orphanage and utilizing technology to interact with one another. The important issues discussed between participants at the meeting included making an impact in the local and international communities, learning from other countries and cultures, engaging the existing efforts of other women's organizations and Sister Societies, identifying micro-inequities that may be subconscious, and discussing gender bias.

The next meeting will likely be in early November, but we will update you when that date has been finalized!
Global Women's Leadership Forum - July 13–17

This exclusive event allowed members of the Global Women's Leadership Network the opportunity to connect face-to-face with women from other credit union movements at five separate activities. We kicked off the Forum with a lively Networking Reception on July 13th, which was attended by 150 guests. The Athene Leadership Award was presented to Roxy Ostrem of Ventura County Credit Union and we thanked the members, sponsors, golfers, and other supporters for making the Network possible.
At our fifth annual Forum workshop, 115 leaders came together to discuss issues facing women in professional roles all over the world. Our keynote speaker, Sheryl WuDunn, gave a rousing presentation on the discrimination faced by women on a global level, as highlighted in her book, Half the Sky: Turning Oppression into Opportunity for Women Worldwide. The workshop featured panel discussions on Advancing Women in Leadership followed by a Half the Sky book signing. The afternoon included a Knowledge Cafe with roundtable discussions on topics such as Negotiating your Value, Succession Planning, and Networking For Influence. The content of the Forum drew in many new members interested in the hearing our esteemed keynote speaker and receiving valuable information relevant to their professional advancement.
For the next three days, the Network had its own lounge where members and supporters could relax between session of the World Credit Union Conference. Couches and coffee were provided to create a calming oasis in the middle of a bustling conference center. It was a convenient place for our members to Network, bring friends interested in joining, and conduct business activities in a quiet environment. The lounge also became the site of our Sister Societies meeting and Networking Workshop. The Sister Societies meeting featured an introduction to Sister Societies in general as well as descriptions of our many Sister Societies across the globe by the leaders from each group. It was a great way for members to join a Sister Society in their area or, if there was none set up, to consider forming their own. The Networking Workshop featured an art project led by Sarah Canepa Bang, President/COO of FSCC, LLC and Chief Strategy Officer of CO-OP Financial Services. On a small canvas, each participant painted a Kandinsky-inspired circle that represented something about her. The circles were later combined to create an inspirational mural. This event allowed us to network in fun and slightly messy way; a whimsical departure from the more formal gatherings of the both the Forum and the WCUC.
Overall, the fifth annual Forum was a success and included more attendees and activities than we have ever seen! We hope to see as much participation in our Forum next year in Gold Coast, Australia!

Global Women's Luncheon at the League of Southeastern Credit Unions' Convention - June 14

The Network held a luncheon during the League of Southeastern Credit Unions' Annual Convention in Orlando, Florida. By participating in the luncheon, members and non-members enjoyed a lovely meal with their fellow credit union leaders. They also received valuable leadership tips from the panel of guest speakers.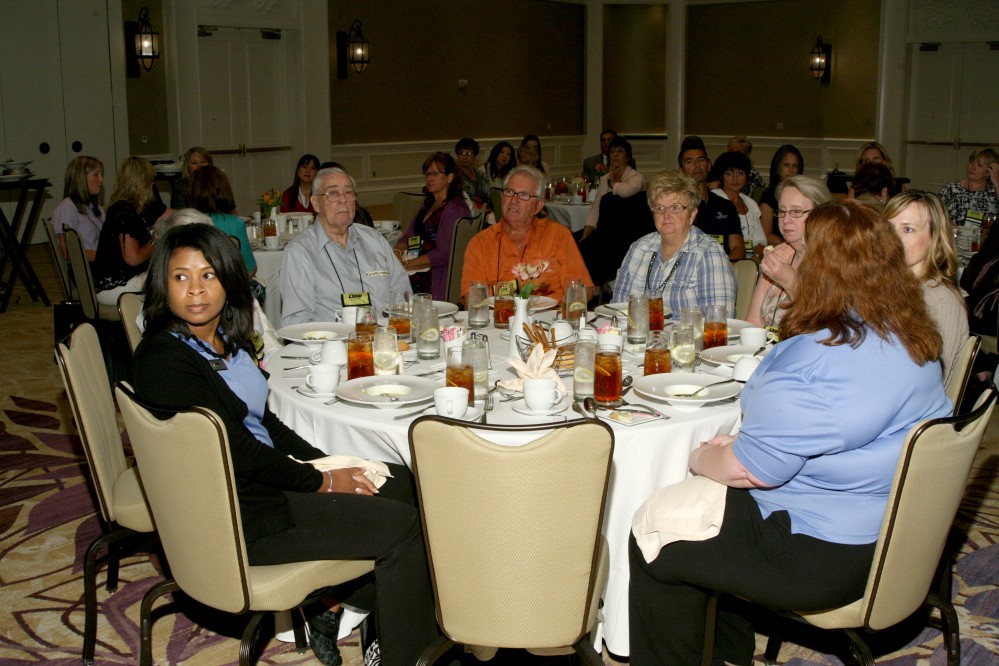 Nevada Sister Society Meeting - May 21
This Nevada Sister Society meeting discussed possible community outreach efforts, such as providing seniors with food, providing financial literacy education, and participating in clothing drives through Shade Tree or Dress for Success. They also discussed business issues such as language and translation services, nurturing existing credit union opportunities, building the credit union brand, and creating community recognition. The Sister Society would also like to invite more men to participate and create its own LinkedIn group.
When we care about something, we truly focus our energy and time! Sister societies focus on community involvement and making a difference on a local level. All of the societies are looking for professional development, making a difference in the community, and the global connection.
First-Ever Arizona Sister Society Meeting - May 15
Thank you to all who participated in the first Arizona Sister Society meeting. We look forward to keeping in contact with all our new friends! At this meeting, we introduced the World Council and the uniqueness of Global Women's Leadership Network. We discussed building the CREDIT UNION brand in Arizona through CUWomen and a commitment to demonstrating the credit union philosophical difference to serving members. We also covered professional and community development through networking and collaboration.
We will be sending out a survey within the next two weeks to all attendees. Our objective is to gather input on the first meeting, determine how we can make our meetings more productive, and begin to develop an inventory of member skills and interests to ensure that we make the most of our resources. The sense of excitement and enthusiasm was palpable at our first meeting. We are looking forward to keeping up the momentum!
New York/New Jersey Sister Society Meeting - April 25
Thank you to all who were able to attend the New York / New Jersey Sister Society Meeting on April 25th. Twenty female credit union managers and volunteers joined together to discuss issues relating to Women in Leadership. The session began with introductions and networking. Special guest, Sandy Shaw, from FirstOntario Credit Union, spoke about her interest in starting a Sister Society in her region of Canada and having a connection with the NY / NJ group. A group video and photo was then taken followed by lunch. A power point presentation was then given by Robin Myers with regards to women leaders in government and credit unions. Next, Shirley Jenkins, from Municipal Credit Union, spoke about her experiences as a volunteer in many different organizations. Discussion was held with regards to the need to establish a social mission for our group. Many great ideas were shared and will be explored to see if they are practical to pursue. The meeting ended with a short video of the Half the Sky documentary as an introduction to the upcoming GWLN forum's guest speaker, Sheryl WuDunn.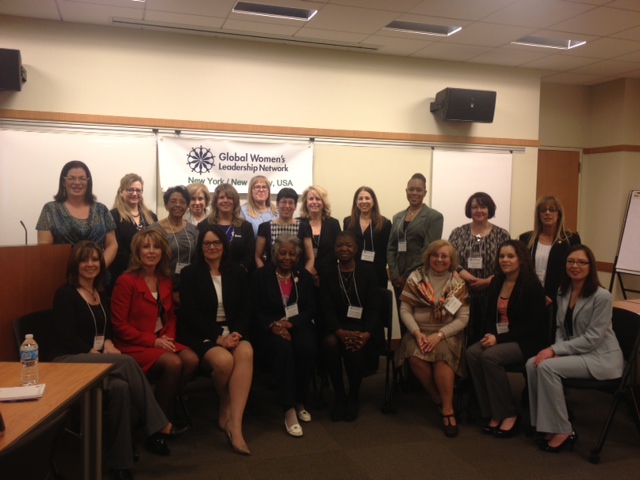 Bay Area Sister Society Meeting - March 13
Thanks to Travis Credit Union for an outstanding Global Women's Sister Society meeting. Some of the highlights included a presentation titled "A Splendid Gift" from Patsy VanOuwerkerk, CEO of Travis CU, which talked about the gift of mentoring and supporting other women in their journey towards success- personally, professionally, and in their communities. She told her personal story about taking risks, building a network, and her willingness to listen as people reach out to her for collaboration. The charity selected was the Boys and Girls Club of Sacramento, to which we donated valuable school supplies. Thanks to everyone who attended this productive meeting!
Networking Breakfast at the GAC - February 27
The annual networking breakfast brought together 105 top leaders from 23 states to connect with one another and hear from legislative and political representatives. The event took place at the National Museum of Women in the Arts in Washington, D.C., during the Credit Union National Association's (CUNA) Governmental Affairs Conference. Featured speakers included Bill Cheney (president and CEO of CUNA), Rep. Suzanne Bonamici of Oregon, Teresa Freeborn (President and CEO of Xceed FInancial Credit Union), and Zixta Martinez (Assistant Director of External Affiairs from the Consumer Financial Protection Bureau).