Recent Network Events


Malawi Sister Society Meeting - December 19
The meeting started with a word of prayer by Getrude Chiomba from Sunbird SACCO. After opening remarks by Triza Magreta, members were briefed on Global Women's Leadership Network Sister Society, especially the Malawi Sister Society. They were eager to hear from our speakers, Faith Mang'anda and Benadeta Yafete.
We discussed membership benefits and had a lot of interest. We emphasized that every member of the sister society should also be a member of Global Women's Leadership Network and encouraged them to participate actively in the network and local activities.
Through the panel discussion, Faith Mang'anda (the retired Regional manager for Agriculture Development Marketing Cooperation (ADMARC), the former MUSCCO President and former ACCOSCA BOD member) and Benadeta Yafete (the Employee Benefits Manager at Illovo Sugar (Malawi) Ltd) shared their experiences and challenges in obtaining senior positions. They pushed us not to set limits, to always take up challenges, and to fight hard to break the glass ceiling in order to become women of purpose. They encouraged us to always work together and to support other women. Our goal is to do this in organizing activities which will make us a better known society.
We brainstormed future activities for 2015 including fundraising, sharing experiences amongst ourselves, and teaching Malawian women about the saving culture. Our next meeting will be held in April, hope to see you there!

Nevada Sister Society Meeting - December 10
At the last Nevada Sister Society meeting speaker, Erika Thompson from Shade Tree let us know what the non-profit organization offers to the community, who they are aimed towards helping and how they make a difference. Shade Tree has been involved in improving the lives of women, children and their pets who have been affected by homelessness and abuse for 25 years. Shade Tree is the largest 24 hour accessible shelter in Southern Nevada. The individuals residing in the shelter can take part in several programs Shade Tree has to offer such as: emergency shelter, transitional housing, life skills, job development, healthcare, survivor service and mental health service coordination.
Erika also let us know how we as a community can help by volunteering at the shelter, donating items and how that helps provide for safe shelter, nutritious meals, job training, placement programs and the list goes on.
The Sister Society donated many items to help with Shade Tree bundles and put together for the needs of the individuals residing in their shelter. Items that were donated helped create baby packs, new arrival bundles and emergency pack for adult women. Diapers, wipes, twin sheets, twin blankets, pajamas, socks, pacifiers were just a few things donated from the Sister Society of Southern Nevada. It all helped to create 30 packages and helped with other packages given when the individual lives.
Shade Tree Mission: To provide safe shelter to homeless and abused women and children in crisis and to offer life-changing services promoting stability, dignity, and self-reliance.
For more information on how you can help go to www.theshadetree.org.

Los Angeles Sister Society Meeting - October 29
The Los Angeles Sister Society met on October 29th and probed the question: What do I want to get out of GWLN?
Helping the woman in my department understand their worth and empower them to do their best and share in their achievements. Pay it forward.
To outreach to young women on financial management, by informing them of what our credit union offers. - Susan Craig, VCCU Director
Continue to have open discussion about women in the workplace, and learn how we can work together to have equal representation and compensation at all levels. - Paris Chevalier, Xceed Financial Credit Union
I want to gain knowledge, make friends and business contacts; to see what ideas they have tried in their organizations. Networking opportunities. - Tamie Levine, VP Member Services LA Financial Credit Union
To share ideas on how to better support the growth, development of women in the work force and beyond. - Fabiana Burkett, Xceed Financial Federal Credit Union
Make connections & learning paths of success from other women leaders. - Cynthia Gruen Styskal, Wiese & Melchione, LLP cyndigruen@swmllp.com
Inspiration, and continuing growth in my career and in my role at the credit union I work for. These are the things I look forward to benefiting from. - Laura Lara, Xceed Financial Credit Union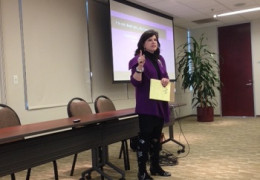 These were just a few aspirations that came out of the meeting. The final thoughts of the meeting were by Sarah Bang:
Don't apologize.
It's an obligation for men/women to stay relevant.
Write. Speak. Network. Work. Harder than anyone else.
Don't ever let being a woman be an excuse.
What you put your attention to... will happen.
Be yourself. Everyone else is taken.


Colorado Sister Society Meeting - October 15

The Colorado Sister Society met on Wednesday, October 15th, hosted by the Westerra Credit Union. The guest speaker was Lauri Brammeier, Board Chair of Colorado Women's Chamber of Commerce on the topic of "Cultivate: The Power of Winning Relationships."
The Colorado Sister Society also collected canned goods for the Food Bank of the Rockies, a food bank selected by the host credit union.
Scholarship Winners to Leverage International Network and Improve Access to Finance for Women
The Global Women's Leadership Network is pleased to announce Elenita SanRoque, CEO of the Association of Asian Confederation of Credit Unions (Thailand) and Kristi Lozano, Financial Education Specialist at San Mateo Credit Union (USA) as winners of the 2014 "Empowerment Grant" that will be used to improve the financial status of women in their communities. In addition to a financial award, each of these women will receive technical support, expertise and guidance from their Global Women Network peers worldwide.
Earlier this year, SanRoque and Lozano participated with four other women in the Network's scholarship program where they attended the annual Forum event at the World Credit Union Conference and presented their proposal to Network members.
Each of the scholars was asked to design a concept that would increase access to credit, loans, savings, and leadership opportunities for women in their communities. Network members voted on the proposals and World Council staff evaluated the potential projects on several criteria relating to the strength of the project, the financial needs of the project, opportunity for Network membership involvement and potential value to the community.
SanRoque will work with the Paglaum Multi-Purpose Cooperative in the Philippines to establish a Business Development Center that will play a crucial role in advancing women members' entrepreneurial and leadership skills as well as access to markets and information for micro and small enterprise developments (MSEs). Lozano's project aims to increase the financial and leadership skills of female high school credit union members and assist in their preparation to matriculate into a college or university.
"The Network Empowerment Grant will enable female students to learn and develop their financial readiness and interpersonal skills through a mentorship program. I have met so many women through the Global Women's Network that have inspired me to challenge myself, and my career, that I am ecstatic about being able to extend this resource to the younger generation. This is the epitome of empowerment," said Lozano.
"We are excited about the influence these two projects will have in their community to advance the financial future of women. With over 500 women in the Network, the project winners have an excellent opportunity to leverage their peer's expertise and engage globally, while having a local impact," said Calyn Ostrowski, director, Worldwide Foundation and Global Women's Leadership Network.
Funding for scholarship winners and project activities are supported by membership dues and the generous support of CUNA Mutual Group, The Members Group and the Susan Adams Scholarship Fund, which was established by the Arizona State Credit Union and PSCU in honor of former Entrust Financial Credit Union CEO Susan Adams.
Global Women's Leadership Network Transition - October 1
Dear Global Women's members,
Brian Branch, president and CEO of World Council announced a transition in the Network on October 1, 2014:
"The Global Women's Leadership Network is one of the most important programs at the World Council of Credit Unions. We value your commitment as members and sponsors. You are creating a global community of women committed to changing lives.
I am pleased to let you know of a change in responsibilities at the World Council. Nicole Bice will be managing mobile technology programs for WOCCU Services Group (WSG). Katie Tellock will accompany Nicole in supporting these World Council projects.
Calyn Ostrowski, the Worldwide Foundation for Credit Unions Director, will step into the role of managing the Network. Prior to joining World Council, Calyn led the Woodrow Wilson International Center for Scholars' Global Health Initiative where she addressed maternal and reproductive health, gender equity, youth, poverty, and health systems in developing countries. Like Nicole, Calyn is passionate about women's leadership and improving women's access to financial services.
You can reach Calyn at costrowski@woccu.org or via telephone at +1-608-395-2056.
We are fortunate to continue working with the leadership of Sue Mitchell as the Chair of the Global Women's Leadership Network.

DC Sister Society Meeting - September 30
Despite huge metro and traffic problems that morning, the Sept. 30 meeting of the DC Sister Society of the Global Women's Leadership Network hosted 18 women. The meeting opened with a story about the lament of the middle-school-aged daughter of NCUF's Christopher Morris that all of the costumes her size were 'sexy' characters. This inundation of young women is detrimental to how the world sees them and how they see themselves. Society must break through the false assumptions that men and women should follow certain roles.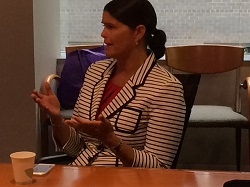 The Partnership FCU CEO Theresa Mann and National Credit Union Foundation Executive Director Gigi Hyland led a panel about their rise to leadership, how they did it, and lessons learned. Theresa discussed being a young CEO, and how early on in careers, leaders lack context. Mentoring and being mentored is important all the time at every stage, she said. Gigi recommended broadening experiences beyond career, into hobbies, etc., because they're all leadership learning experiences. She also pointed out that she was raised with the confidence that she could do anything, which was a big plus.
Co-chair Bryn Vaupel, principal at BCC Strategies reviewed The Power of Habit by Charles Duhigg, and talked about how we can ID the cues of leadership in the CUE -> Routine -> Reward cycle. For instance, if the CUE is work-life balance, and your standard ROUTINE is to power through it all, then the REWARD is preserving the perception of strength. However, what might be a better option is changing the ROUTINE to ask for help, which results in the REWARD of less limited options. We also viewed and discuss the related video: https://www.youtube.com/watch?v=OMbsGBlpP30

Sarah Turner provided an overview of Suited for Change, a local charity that provides business clothes and job counseling to underprivileged women in DC. These women were very appreciative and received two outfits that were put together by consultants. After these women were hired, the organization provides follow up wardrobes. Some of the women have never had any clothes other than t-shirts and jeans.
Possible topics for next meeting: emotional intelligence, mentoring, what to do to bring young adults to work at CUs.
Trinidad and Tobago Sister Society Meeting - September 10

During the September Trinidad and Tobago sister society meeting, Mrs. Rajkumar shared her experience participating in the Global Women's Leadership Forum held in Australia. Some of the highlights shared from the event were:
How do we impact our local community

How do we help women come together and work together using the Credit union Brand and the Co-operative model
What are the obstacles and opportunities of women in leadership roles
Want to grow the number of Network members to 1,000 women by 2017 and sister societies are critical to this acheivment.
At the Forum, the Feature Speaker was Dr. Louise Mahler who spoke on Vocal Intelligence in Leadership. Rajkumar noted the Network scholarship winners presented project proposals to improve women's access to financial services and leadership skills. Each Network member has been asked to vote on which proposal they feel is strongest and Rajkumar shared that she personally pledged to support the initiative by San Mateo Credit Union. The proposal by Kristi Lozano of San Mateo Credit Union is an after school program for up to twenty (20) underserved young ladies who are the first in their families to go to college. The belief is that greater knowledge means better choices and that financial education is appropriate at all phases of life.

Next meeting is scheduled for October 8th, at the Community CareCredit Union at 5:30 p.m.

Bay Area Sister Society Meeting - September 9
Lecia Roundtree kicked off the meeting with an opening exercise that asked the group to share their opinion on popular topics in the news and how that may affect the perception of women. Roundtree reminded attendees that the Sister Society meetings provide an opportunity for credit union women to the women connect, share information and identify solutions for the challenges surrounding women. .

Sue Mitchell provided an update on the Network's strategic progress and goals,along with an overview of the annual Forum event held in Gold Coast, Australia. The highlights included tips on how to communicate through our body language, words, mind and voice.

The group discussed activities they did to promote women in leadership. The group agreed that it was an organizational problem more than just a gender issue. Discussion Topics included:
What is your organization's percentage of women to men in the workplace (staff, management, executives and Boards)? Does it change when you look at promotions?
How does your organization support Women in Leadership in you Organization
What are the best practices for incorporating the thoughts for advancement into your onboarding/new hire process?
How can you increase visibility of the Leadership role in the community
Donations collected during the meeting went to Tri-Valley Haven, an organization established to assist individuals facing Domestic Violence, homelessness or family crisis.
The next meeting is scheduled for Wednesday, November 19th in San Francisco. Topics will include:
What have we done differently this year?
Leadership - getting the most out of your people and the organization.
New York & New Jersey Sister Society Meeting - September 9

The New York & New Jersey Sister Society would like to extend its thanks to Melrose Credit Union for the lunch and the set up and to Montauk Credit Union for hosting.
We had an excellent discussion on Advancing Women. We presented stats on each credit union present and learned the gender ratio in senior management was 50/50. The Vice President level was 40/60, and most of the women are in positions that directly interact with members.
There was a healthy discussion on personal choice and some women preferring flexibility over advancement. This was a dialogue of diversity and one that takes serious consideration. Our networking discussions focused on compensation, confidence, and championing.
Ideas we would like to explore at the next meeting:
Global Women's Leadership Network workshops at New Jersey credit unions and New York Association
Adding educational topics to agenda
Scholarship for a student in region
Women's Shelter
Women recruiting
Mentoring with billion $ CEO
Thanks to all for the participation. Very worthwhile! The next meeting will be in the fourth quarter.
Global Women's Leadership Forum - July 26–27
The 2014 Global Women's Leadership Forum in Gold Coast, Australia, was a huge success! Held in partnership with Australian Women in Mutuals (WIM), this all-day workshop connected credit union women during an interactive leadership development session. Participants engaged face-to-face with women from other credit union movements to grow their business knowledge and professional relationships.
This year's event featured Dr. Louise Mahler, renowned expert on vocal intelligence, as the keynote speaker, and included a working luncheon and global dialogue during roundtable discussions. Over 125 Network members attended the Leadership Forum, and the feedback was positive all around. Thank you for helping to make this event a success!
Michigan Sister Society Meeting - June 27

This meeting of the Michigan Sister Society featured guest speaker Bernadette Johnson, CPT and Resultant. Bernadette engaged participants in a café conversation on sharing collective wisdom, building relationships, and co-creating opportunities for learning. Bernadette is a dynamic, engaging and energetic speaker that our members were happy to host!

Michigan leaders are asking all attendees to bring a clothing donation for Dress for Success. They are currently accepting new or nearly-new and cleaned work clothing, including interview-appropriate skirt and pant suits, blouses, blazers, shoes, handbags, and coats.
Ontario Sister Society Meeting - June 20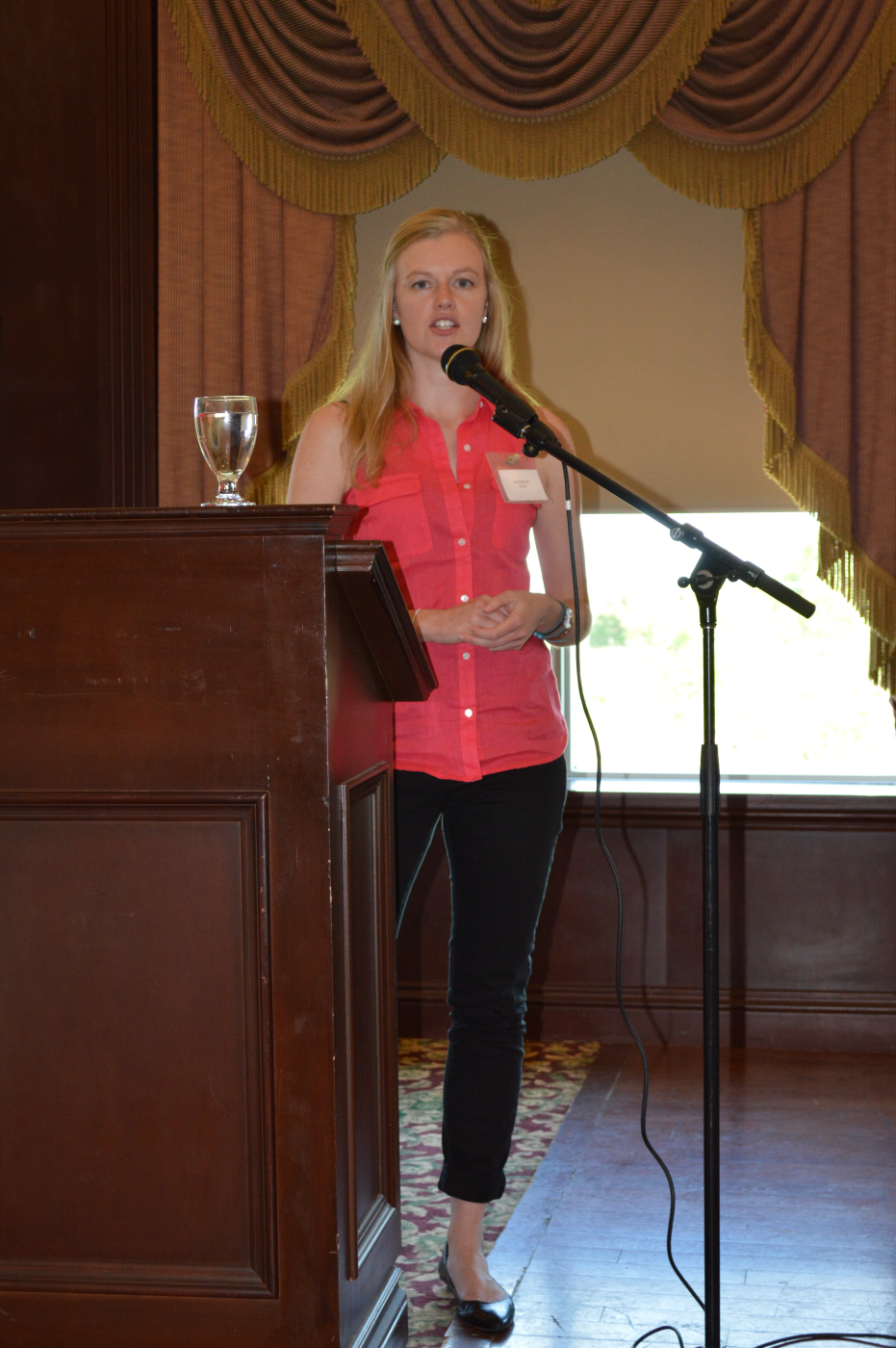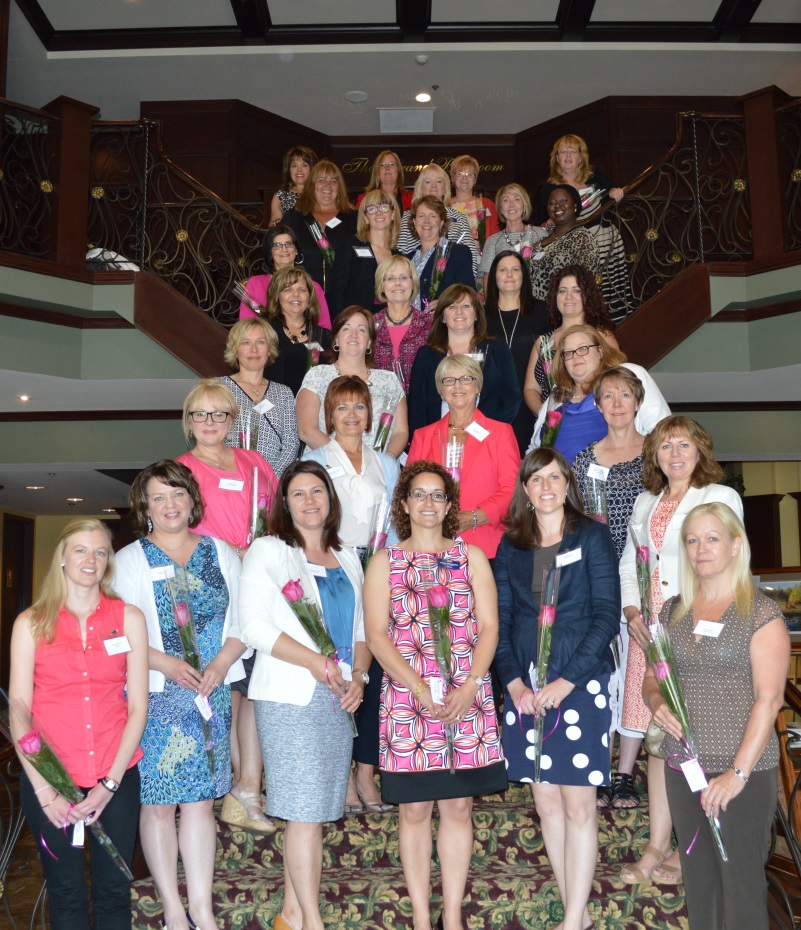 It was a day of chocolate truffles, pink roses, and inspiration (a room full of awesome credit union sisters from across Ontario and one USA sister). The day started out with a greeting letter from Kelly McGiffin, FirstOntario Credit Union CEO, and Carey Smith, FirstOntario Board Chair. This was delivered by Barry Doan, FirstOntario CFO (a very brave man in a room full of women leaders). We would like to thank our male counterparts for their strong show of support of this networking event and for kick starting the day with their words of Inspiration for a great day of learning! FirstOntario was honoured to host the first meeting of the Ontario Sister Society in 2014.

Our guest list was indeed very special as we had an international guest, Marquetta White from Arizona State Credit Union. Marquetta represented the Global Women's Leadership Network and facilitated a lively and interactive session covering the general vision of the network, our global connections, and how the Network is growing.
Our second keynote speaker was Anna Brown of the Canadian Co-Operative Association (CCA) and the Co-Operative Development Foundation of Canada (CDF). Anna is CCA's program officer for Africa and is also responsible for the CCA's international research and evaluation. Anna's work focuses on the promotion of gender equality and women's leadership in the co-operative movement in Africa. She is currently working on projects in Malawi and Uganda. Anna's presentation was one of true reflection (hardly a dry eye in the room). She touched on a global women's mentorship program that CCA runs every year in Canada. She spoke of the programs benefits to the participants, their home countries and the sponsoring Credit Unions. She also focused on the empowerment of girls and young women locally and globally and inspired the group to question and probe for needed action moving forward.
The afternoon was a session of breakout/networking opportunities. We dealt with the following topics:

1. What development does the Ontario Network want to achieve?
2. What goals could we set for this group?
3. How could we contribute to the global initiatives?
4. What issues could we address locally to make a global impact?
5. How can we fund the Ontario Sister Society events moving forward?
6. How can we inspire others?
Presentations where given by each breakout group and shared with the group as a whole. The information gained throughout the afternoon will form a strong base in moving forward the Ontario Society Agenda for leadership development.
Florida Sister Society Luncheon - June 13
The Florida Sister Society held its annual luncheon at the Southeast Credit Union Conference & Expo on June 13th. Attendees reported that it was an entertaining, interactive session that focused on how to take collaboration to the next level! The event was co-hosted by Linh Dang, Senior Vice President, Member Services & Special Projects, CFE Federal Credit Union, and Tammy Douglass, Director of Member Relations in the Southeast, CUES. The keynote speaker was Gert Garman, Director of the Collaborative Design Center at Valencia College Company. They are planning to have their October 16th meeting at Disney's Boardwalk.

Michigan Sister Society Open House - June 5

| | | |
| --- | --- | --- |
| | | The Michigan Sister Society held an Open House at the Michigan Credit Union League's Annual Convention and Exhibition on June 5th. The event was a success, with about 24 high-level women leaders in attendance. Michigan Sister Society Leaders Vickie Schmitzer, Jody Karnes, and Jane Kile. |
To kick off the meeting, Vickie Schmitzer (CEO, Frankenmuth Credit Union) introduced the group to World Council of Credit Unions and the Global Women's Leadership Network with great stories of her past experiences and interactions. Following this, Hank Hubbard (CEO, Communicating Arts Credit Union) spent some time describing the programs World Council is currently implementing and how he has been personally inspired to participate in these causes.
Attendees were given a brief presentation on the history, growth, and momentum of the Global Women's Leadership Network by Jody Karnes (CIO, CU*Answers). After this, Jane Kile (SVP, Strategic Services, Lake Trust Credit Union) introduced the concept of the local sister societies that are able to meet face-to-face several times a year. These meetings include speakers/presenters on topics related to the mission and vision of the Network, fundraisers or support events for local groups relevant to the Network's goals, and great opportunities to network with colleagues and other business professionals.
In speaking with attendees after the presentation, spirits were high. Many of the new attendees purchased our signature pink ties to show their support of the Network. The Michigan Sister Society will be holding its next meeting on June 27th, and many of the Open House attendees are excited to attend.
Jamaica Sister Society Meeting - June 3
During this Sister Society meeting, our Jamaican members presented a projector to the principal of the Young Women's Christian Association (YWCA) School Leavers Institute for educational use. The YWCA was very grateful to receive this contribution and indicated that it would greatly improve their ability to help young women with their reading skills. The Jamaica Sister Society has decided to provide mentorship for this group later in the year, and will discuss this at their next meeting.
The Jamaica Sister Society holds a meeting on the first Thursday of each quarter. The next meeting will be held Thursday, September 4, at 3:00 p.m. They are planning to conduct this session via webinar.
Arizona Sister Society Meeting - May 29

The meeting on May 29 offered another tremendous opportunity for learning and networking, as well as contributing to the community. Participants enjoyed a great opening from Jaquetta Ward, Association Support Manager at the Mountain West Credit Union Association (MWCUA), who hosted the event with her organization. A copy of the article Jaquetta shared with us is posted on our Global Women's Leadership Network group pages with LinkedIn, Twitter, and Facebook. If you haven't joined us yet on social media, please take this opportunity to connect with your "Sisters" in the credit union industry worldwide!
Thanks to Brandi Stankovic from Mitchell Stankovic for her update on the growth of the organization. She reported that we now have more than 600 members in 15 chapters across the globe - including our partner group that started in Colorado on May 28. Brandi's next presentation featured a discussion of issues from Lean In by Sheryl Sandberg. The topics spurred thoughtful discussions about the nature of leadership and how we can promote our own success and that of other women in credit unions.
Attendees of the Arizona Sister Society meeting were also asked to complete a brief survey so that they could help to set the course for future meetings and activities.
Colorado Sister Society Meeting - May 28
The first-ever Colorado Sister Society meeting was a great success. Among the attendees were CFOs, EVPs, VPs, CEOs and SVPs! The group was led by Nicole Brusewitz, CUDA, VP of Education and Events at the Mountain West Credit Union Association (MWCUA). Scott Earl, President/CEO of MWCUA, also stopped by to lend some encouraging words to this new group.

Brandi Stankovic of Mitchell, Stankovic and Associates kicked off the meeting with an introduction to the Network and an update on Network activities, which was followed by roundtable discussions on Women in Leadership. When participants were asked, "Why are you here?", their reasons included:
Networking
Mentoring
Forum for authentic discussion amongst peers
Leadership Development
Empower women and each other
International connection and education
Participants were also asked what purpose they would like their Sister Society to serve, and they said:
Professional Development
Hands-on Projects
Create/Facilitate management training for smaller credit unions
Recruit women in the community for credit union boards
Catalyst for leadership development
Philanthropy
The meeting also included a discussion on how the Colorado Sister Society can get involved in the 2015 World Credit Union Conference, which will be held in Denver. They discussed hosting a series of events that would allow Network members to experience the culture of Colorado, including activities such as a hiking trip, barbeque, and credit union visits.

For the next meeting, participants will discuss the potential of using web conferencing. They will also cover the potential for a session at the MWCUA meeting in March 2015 and their planned contributions to Dress for Success.
Malawi Sister Society Meeting - April 25

| | |
| --- | --- |
| | |
The Malawi Sister Society's first meeting of 2014 began with an introduction to the link between their group and the Global Women's Leadership Network by Ms. Triza Magreta (Mudi SACCO) and Ms. Success Mawarenga (Ulimi Community SACCO). They presented on the goals and achievements of the Network over the last five years and emphasized the importance of having a Sister Society for Malawi women. Leaders encouraged all attendees to join the Network and to participate actively in any Network events.

Patricia Mwase, Managing Director of Credit Data- CRB, the guest speaker for the day, inspired the participants with her experiences while starting her company and the challenges she meets as a woman in the course of her duties. She encouraged participants to continue fighting to overcome challenges in their career paths. She said that we should not underestimate our abilities because of our genders and believes that it is time for Malawian women to break the ceiling in the credit union industry. It should be seen and heard that they exist through their movement and beyond.

After her speech, participants brainstormed on the way forward, setting goals and a direction for the group. We have planned to be meeting every four months as per the Sister Society guide. Therefore, we are meeting for the second time in this year in August. In the closing remarks, participants thanked MUSCCO and MUDI SACCO for their contributions to the success of the meeting.
Trinidad and Tobago Sister Society Meeting - April 9
The third meeting of the Trinidad and Tobago Sister Society was held at Community Care Credit Union in Curepe in the evening. Ms. Gail Rajkumar (TATECO Credit Union) introduced all new members and welcomed them to the group. Gail re-iterated that the T & T Society has committed the 2nd Wednesday of the month as its meeting day, and that they aim to keep this as the set date.
Harvard Project Brainstorming Session
The T & T Society has decided to support the local Harvard Hockey Club by conducting sessions on etiquette and fiscal responsibility. June 7th was put forward as the date for the first of these sessions. Ideas for the session included a project planning exercise with the club members, where they will be exposed to budgeting, planning, execution, analysis and financing. The idea of developing different modules which can be broken up based on need and audience was discussed as well.
Ms. Geeta Sahatoo (Retired Cooperative Officer) was asked to prepare the outline for a three (3) hour program for this pilot project. The venue would be the Harvard's Sports Club. The aim is to have at least 20 participants. Sponsorship will be sourced for Refreshments and other incidentals. Ms. Rajkumar also went through the requirements for the 2014 Network scholarship as they relate to this project and how the T & T Society may be able to tie into the 2015 Scholarship.
Other Matters
It was discussed that if the T & T Society is seeking sponsorships etc., then it needs to explore opening a financial account. The co-chair was asked to liaise with Nicole Bice to request some form of official documentation on the formation of the chapter so that we can use that in going forward.

The idea of fundraising for 2015 was discussed, as it was felt that the Denver Conference would be more affordable for more members to attend. One idea was to offer a training package to Credit Unions for their youth members, and have them sponsor their members to attend.

Next meeting is scheduled for May 14th, 2014
New York/ New Jersey Sister Society Meeting - April 8
The New York/New Jersey Sister Society meeting had several fantastic presenters. The meeting was held on April 8, 2014, at Affinity Credit Union's headquarters located in Basking Ridge, New Jersey. There were 35 attendees from 13 different organizations.
Chris Anderson, CPA, CITP and Managing Partner of Baker Tilley, spoke about her own experiences in rising to a Partner position at Baker Tilley and how her husband helps her to balance home, family and work. She gave each attendee a lollipop and a thank-you note and talked about "lollipop moments." Those are the special moments in your life when someone says or does something that changes your life and they may not have even been aware that they did it. The thank-you note was for the attendee to recognize the person who changed her life.
Second, Jamie Capezzuto, a social worker with the Hunterdon Learning Center, described how Affinity FCU and Hunterdon have teamed together to provide an internship for students who are bright but have social issues. Jamie shared stories describing both the challenges and successes her students have had from participating in the internship program. She encouraged other credit unions to reach out to organizations in their cities to help these special needs students.
The third speaker was Cindy Burke, VP Human Resources at McGraw Hill FCU. Cindy discussed the Myers Briggs Type Indicator and using a video had each attendee determine her own four letter personality type. Using role playing, she showed how recognizing the different personality types are important when communicating.
The final speaker was Catherine Ricker, VP Human Resources & External Affairs at Affinity FCU, who provided each attendee with their own copy of the Harvard Business Review's 10 Must Reads on Communication. She presented one of the articles, "The Power of Talk," and described eight styles of talking (including the assumptions behind each style) and the unintended consequences.
Everyone was very appreciative of the hospitality provided by Affinity FCU and the credit union staff!
Trinidad and Tobago Sister Society Meeting - March 12

This meeting of the Trinidad and Tobago Sister Society had a lot of momentum. To welcome the new members, Ms. Jamila Draper (Good Shepherd Credit Union) gave an overview of the Sister Society and a recap of the inaugural meeting of October 24, 2013. Mrs. Gail Rajkumar (TATECO Credit Union) gave an overview of the 2014 Network Scholarship and there was a brief discussion about the upcoming World Credit Union Conference. It was agreed that while not all members present were going to be at the conference, those members going would represent the Trinidad and Tobago Sister Society at the Global Women's Leadership Forum. In addition, plans will be put in place to enable maximum representation at the 2015 event.
The group then discussed what community projects could be undertaken for the next quarter. Some ideas were:
1) Team with other associations to collaboratively impact young minds. For example, participating in the Dynamic Youth Foundation Conference on May 16th.
2) Harvard Hockey Club- Have a half-day session for members and conduct an interactive session on etiquette and responsibility.
3) Choose one school from the North, South, and East to prepare them for Money Management, pointing them to join a credit union in their area.
It was decided that the Harvard sessions will be explored for implementation in late April.The next meeting will be held April 9th.
Bay Area Sister Society Meeting - March 5
This gathering of the Bay Area Sister Society was highly interactive. The meeting commenced by first recognizing the success of the GAC Breakfast held one week before. Diana Dykstra, president of the California/Nevada Credit Union League, engaged the group in a thought-provoking discussion on effective communication. Many of the women shared stories about how they have handled communication issues in a variety of situations. This month's charitable donation went to CORA (Community Overcoming Relationship Abuse). Participants brought socks, underwear, sweaters, sweatshirts, blankets, and monetary contributions for the cause. The next meeting will be held at Patelco Credit Union's Pleasanton location.
Networking Breakfast at CUNA's GAC - February 26
Our fourth annual Networking Breakfast was a great success. Over 140 attendees from 21 states gathered to hear inspirational speeches from Representative Gwen Moore (D - WI) and Deputy Commissioner Ramona Prieto of the California Highway Patrol. We extend our thanks to all the attendees of this event as well as our sponsor, CU*Answers, for continuing to support our mission of advancing credit union women in leadership. Please enjoy the photos from the event, which can be found here.
Los Angeles Sister Society Meeting - February 11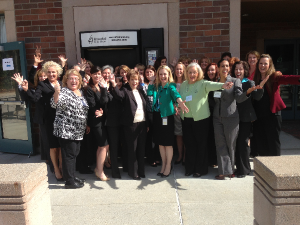 The Global Women's Leadership Network launched a new Sister Society in Southern California on February 11th! This region of the Unites States has the largest concentration of current members and our session was a great mix of current and prospective members. The session was very well attended by women from several credit unions and support organizations. Carol Galizia, CEO of LA Financial, and Roxy Ostrem, board chair of Ventura County Credit Union (VCCU), welcomed the group with excitement and talked about leading the Sister Society and their connection to the network. Brandi Stankovic, MSA and co-chair of Nevada, delivered the GWLN vision and engaged the women in roundtable discussions regarding women in leadership, professional transitions, gender stigma and their own passion and purpose. Then we were happy to introduce Diana Dykstra, president and CEO of the California and Nevada Credit Union Leagues, who delivered a conversational piece on communication. Giving the attendees helpful hints and tips on being a successful communicator in their credit unions and lives. We closed the session with goals for the Sister Society and next steps. We are looking to have the next couple meetings in Thousand Oaks at VCCU or Ontario at the California and Nevada Credit Union Leagues. Potential next topic is "Great Work" and the time frame will be in late summer or early fall.
Arizona Sister Society Meeting - January 29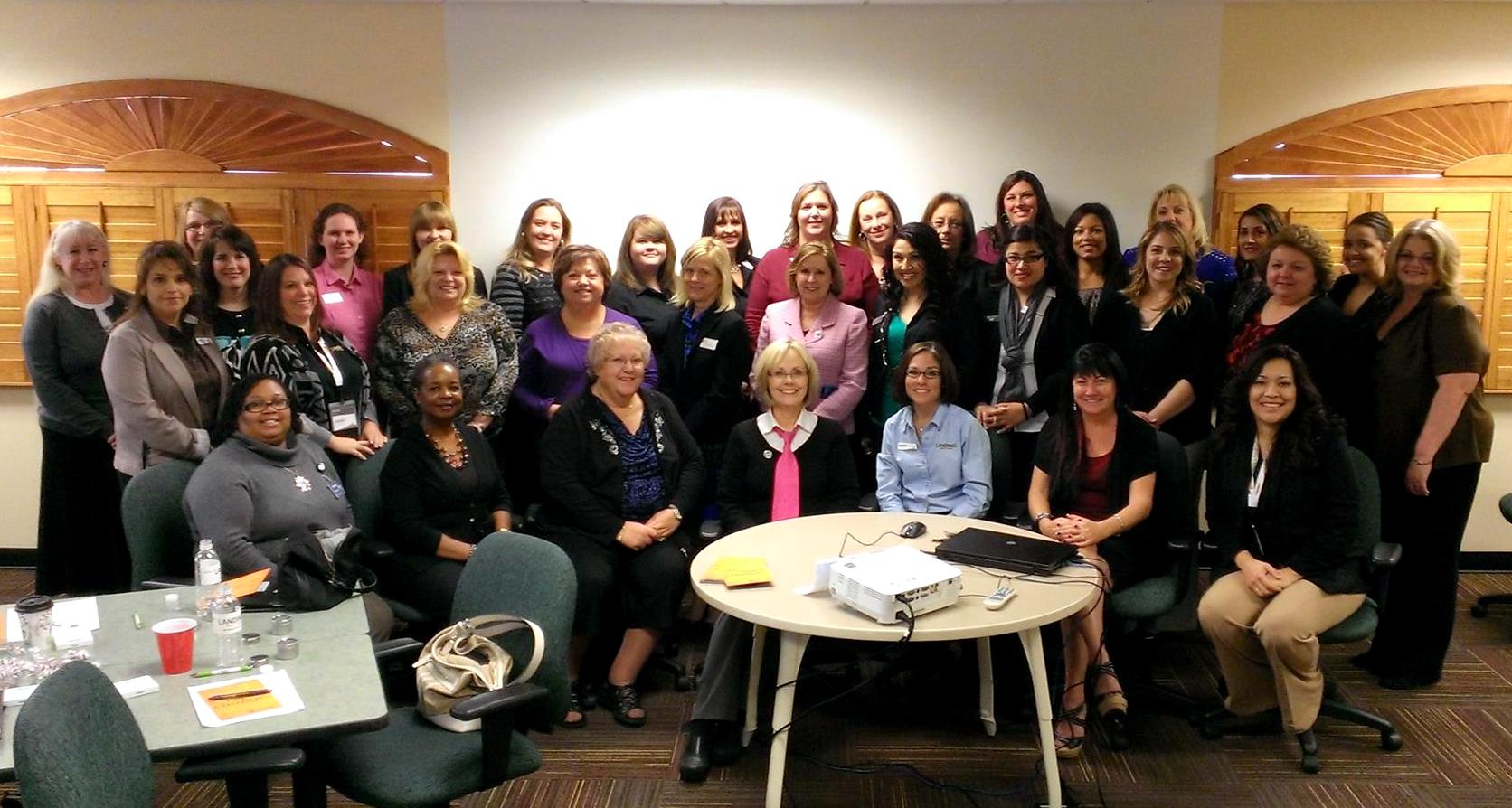 The Arizona Sister Society meeting had a great attendance and included some fantastic presenters! The meeting was hosted by Landings Credit Union. Thanks to CEO Margaret Hunnicutt for her presentation on the evolution of a CEO, and Adrianne Rexius for her talk on building a brand image.
The network's activities included discussing management styles as well as a LEGO building exercise. Attendees brought contributions for the Sojourner Center for domestic violence, and their representative Katie Jensen told us about their programs and how we might continue to assist.
DC Sister Society Meeting - January 17


This meeting of the DC Sister Society was extremely productive. Sue Mitchell, Network Chair, and Nicole Bice, Network Manager, facilitated the Network update and discussion. We will be working together to provide support, mentoring, contacts, introductions, learning opportunities and much more in the year ahead. The DC Sister Society will welcome U.S. members and supporters during the GAC breakfast, demonstrating the strength of the local effort and establishing contacts/access to influential leaders across the US.





The progress update was followed by networking activities. The exercises included getting to know the attendees and a detailed discussion about A, B, and C contacts. It is critical to have a central ring of "A" contacts that you can call upon for special situations, close relationships, referrals and potential opportunities. The "B" group is meant to provide you technical backgrounds, contacts for sharing best practices, and should eventually move to A or C contacts. The "C" group is a general group of contacts that can be explored and developed into meaningful business relationships. Sue Mitchell's presentation on the book, Great Work by David Sturt, provided a framework for building value in our careers and differentiating ourselves within the organization/industry. Roundtable discussions gave the members an opportunity to discuss applications for them personally and professionally. Highlights included: "How to Make a Difference People Love," "Talk to Your Outer Circle," and "Reframe Your Role: Become a Job Crafter Who Puts Your Own Take on It.'"

We will be arriving at the GWLN Breakfast during GAC at 7:15 to help meet and greet attendees of the annual event on February 26. The next meeting of the DC Sister Society will be held at Callahan and Associates during second quarter. We will be collecting professional clothing for women to be given to women working to re-establish their careers or going on interviews. Details to be announced. Felicity Guerin also shared some information about the Children's National Medical Center's Healthy Generations program, a possible charity to support in the future. Thanks to Alix Patterson and her cohorts at Callahan & Associates, who will be hosting the DC chapter's Q2 meeting. We will be collecting professional clothing for women to be given to women working to re-establish their careers or going on interviews.
Florida Sister Society Meeting - January 15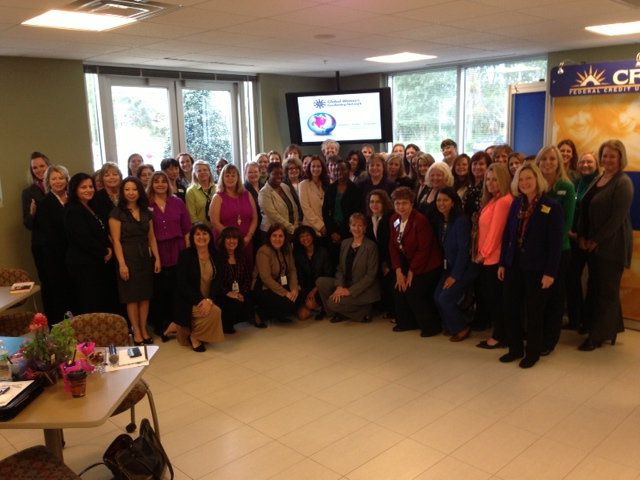 Thank you for a wonderful session on Wednesday, January 15. With over 50 attendees, this was one of our largest gatherings to date! We were even joined by an international guest, Catherine Rogers (FirstOntario Credit Union), one of the leaders of the Ontario Sister Society.

Speakers included Linda Darling, SVP/COO of Suncoast Schools Credit Union, and Brandi Stankovic, of Mitchell, Stankovic and Associates, who both did an excellent job of welcoming our attendees. Brandi's presentation covered topics such as the vison of the Network as a whole, fundraising, membership growth, and our global connection. Exciting upcoming events such as the GAC breakfast and the Leadership Forum at the World Credit Union Conference in Gold Coast, Australia, were also discussed. In addition, Brandi outlined the Leadership Reward Points Program and how it can help new members join and benefit from the Network. The second portion of the presentation was on the book Lean In, asking questions about "What holds us back?" and challenging the status quo. The meeting left attendees inspired and motivated to support future Network and Sister Society initiatives!
Sister Society Group Leaders Strategic Planning Session- Dec 4-6

Our US Sister Society leaders met in Las Vegas to plan for 2014.