Recent Network Events
Networking Breakfast at CUNA's GAC - February 26
Our fourth annual Networking Breakfast was a great success. Over 140 attendees from 21 states gathered to hear inspirational speeches from Representative Gwen Moore (D - WI) and Deputy Commissioner Ramona Prieto of the California Highway Patrol. We extend our thanks to all the attendees of this event as well as our sponsor, CU*Answers, for continuing to support our mission of advancing credit union women in leadership. Please enjoy the photos from the event, which can be found here.
Los Angeles Sister Society Meeting - February 11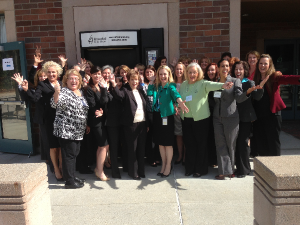 The Global Women's Leadership Network launched a new Sister Society in Southern California on February 11th! This region of the Unites States has the largest concentration of current members and our session was a great mix of current and prospective members. The session was very well attended by women from several credit unions and support organizations. Carol Galizia, CEO of LA Financial, and Roxy Ostrem, board chair of Ventura County Credit Union (VCCU), welcomed the group with excitement and talked about leading the Sister Society and their connection to the network. Brandi Stankovic, MSA and co-chair of Nevada, delivered the GWLN vision and engaged the women in roundtable discussions regarding women in leadership, professional transitions, gender stigma and their own passion and purpose. Then we were happy to introduce Diana Dykstra, president and CEO of the California and Nevada Credit Union Leagues, who delivered a conversational piece on communication. Giving the attendees helpful hints and tips on being a successful communicator in their credit unions and lives. We closed the session with goals for the Sister Society and next steps. We are looking to have the next couple meetings in Thousand Oaks at VCCU or Ontario at the California and Nevada Credit Union Leagues. Potential next topic is "Great Work" and the time frame will be in late summer or early fall.
Arizona Sister Society Meeting - January 29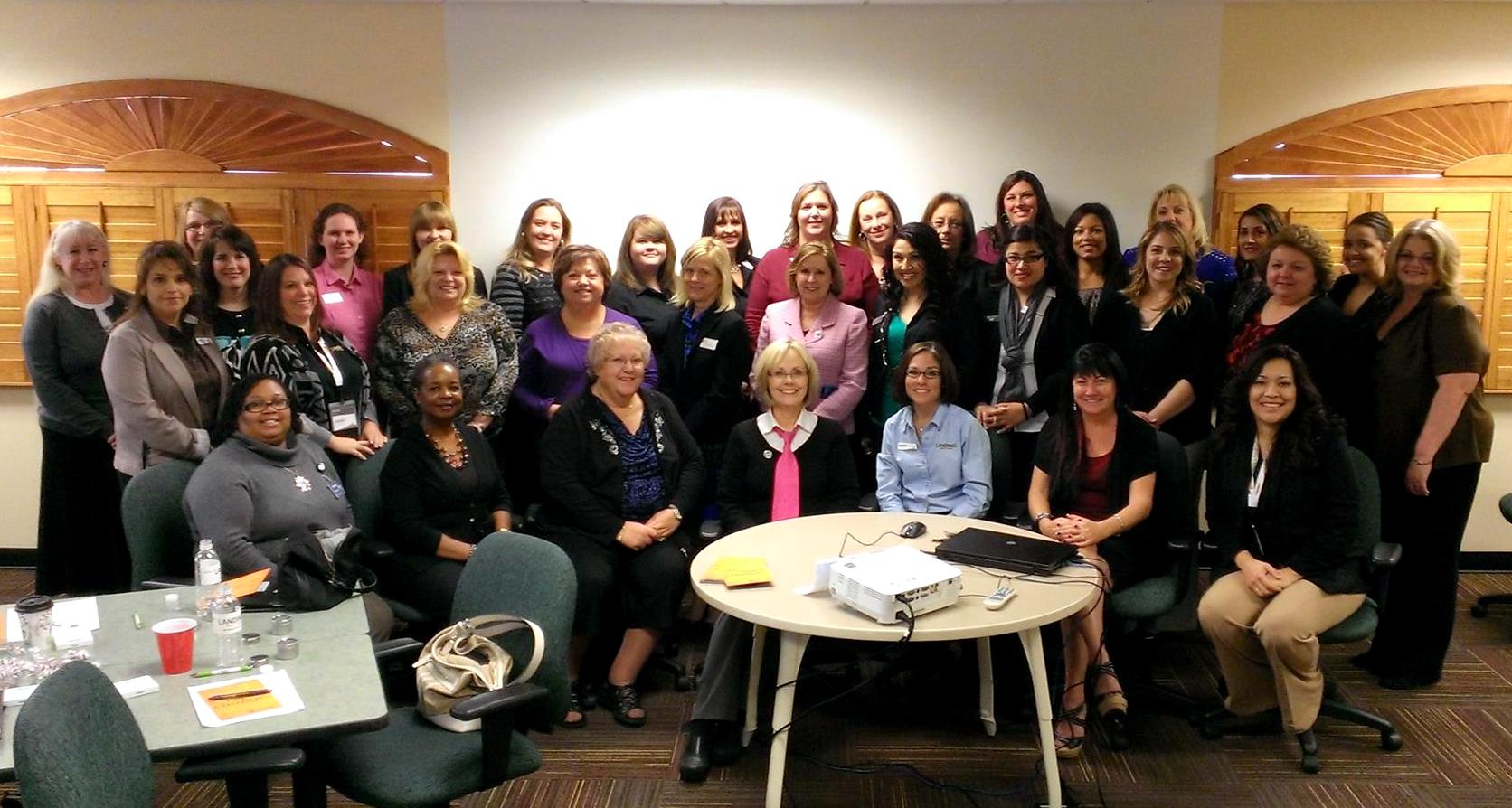 The Arizona Sister Society meeting had a great attendance and included some fantastic presenters! The meeting was hosted by Landings Credit Union. Thanks to CEO Margaret Hunnicutt for her presentation on the evolution of a CEO, and Adrianne Rexius for her talk on building a brand image.
The network's activities included discussing management styles as well as a LEGO building exercise. Attendees brought contributions for the Sojourner Center for domestic violence, and their representative Katie Jensen told us about their programs and how we might continue to assist.
DC Sister Society Meeting - January 17


This meeting of the DC Sister Society was extremely productive. Sue Mitchell, Network Chair, and Nicole Bice, Network Manager, facilitated the Network update and discussion. We will be working together to provide support, mentoring, contacts, introductions, learning opportunities and much more in the year ahead. The DC Sister Society will welcome U.S. members and supporters during the GAC breakfast, demonstrating the strength of the local effort and establishing contacts/access to influential leaders across the US.




The progress update was followed by networking activities. The exercises included getting to know the attendees and a detailed discussion about A, B, and C contacts. It is critical to have a central ring of "A" contacts that you can call upon for special situations, close relationships, referrals and potential opportunities. The "B" group is meant to provide you technical backgrounds, contacts for sharing best practices, and should eventually move to A or C contacts. The "C" group is a general group of contacts that can be explored and developed into meaningful business relationships. Sue Mitchell's presentation on the book, Great Work by David Sturt, provided a framework for building value in our careers and differentiating ourselves within the organization/industry. Roundtable discussions gave the members an opportunity to discuss application for them personally and professionally. Highlights included: "How to Make a Difference People Love," "Talk to Your Outer Circle," and "Reframe Your Role — become a job crafter who puts 'your own take on it.'"

We will be arriving at the GWLN Breakfast during GAC at 7:15 to help meet and greet attendees of the annual event on February 26. The next meeting of the DC Sister Society will be held at Callahan and Associates during second quarter. We will be collecting professional clothing for women to be given to women working to re-establish their careers or going on interviews. Details to be announced. Felicity Guerin also shared some information about the Children's National Medical Center's Healthy Generations program, a possible charity to support in the future. Thanks to Alix Patterson and her cohorts at Callahan & Associates, who will be hosting the DC chapter's Q2 meeting. We will be collecting professional clothing for women to be given to women working to re-establish their careers or going on interviews.
Florida Sister Society Meeting - January 15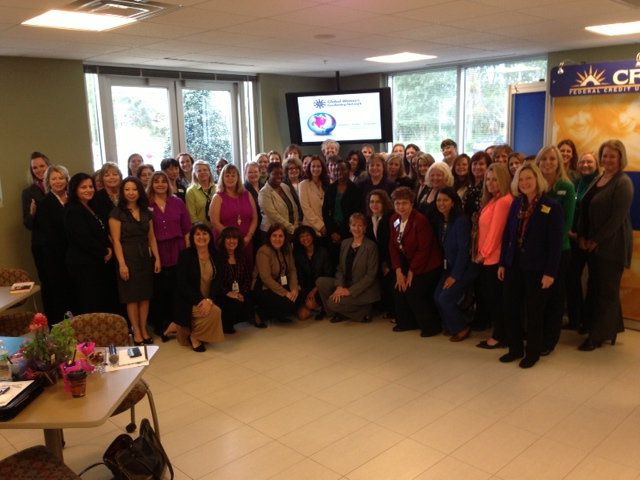 Thank you for a wonderful session on Wednesday, January 15. With over 50 attendees, this was one of our largest gatherings to date! We were even joined by an international guest, Catherine Rogers (FirstOntario Credit Union), one of the leaders of the Ontario Sister Society.

Speakers included Linda Darling, SVP/COO of Suncoast Schools Credit Union, and Brandi Stankovic, of Mitchell, Stankovic and Associates, who both did an excellent job of welcoming our attendees. Brandi's presentation covered topics such as the vison of the Network as a whole, fundraising, membership growth, and our global connection. Exciting upcoming events such as the GAC breakfast and the Leadership Forum at the World Credit Union Conference in Gold Coast, Australia, were also discussed. In addition, Brandi outlined the Leadership Reward Points Program and how it can help new members join and benefit from the Network. The second portion of the presentation was on the book Lean In, asking questions about "What holds us back?" and challenging the status quo. The meeting left attendees inspired and motivated to support future Network and Sister Society initiatives!
Sister Society Group Leaders Strategic Planning Session- Dec 4-6

Our US Sister Society leaders met in Las Vegas to plan for 2014.
Ontario Sister Society Meeting - November


For the inaugural Ontario Sister Society meeting, FirstOntario Credit Union stepped up to the plate for Women worldwide with a donation to CDF (Canadian Development Fund). Pictured at left are FirstOntario CEO Kelly McGiffin, CDF Director Patrice Pratt (receiving donation), and FirstOntario Board Chair Carey Smith. FirstOntario Directors Catherine Rogers and Irene Lowell (pictured right) are proud members of the Global Women's Leadership Network and served as co-chairs for this event. A key goal of FirstOntario's Corporate Social Responsibility strategy is Women's Leadership and Economic Well-Being. Through this donation, FirstOntario is proud to support the efforts of the CDF and the Global Women's Leadership Network.



Nevada Sister Society Meeting - November 4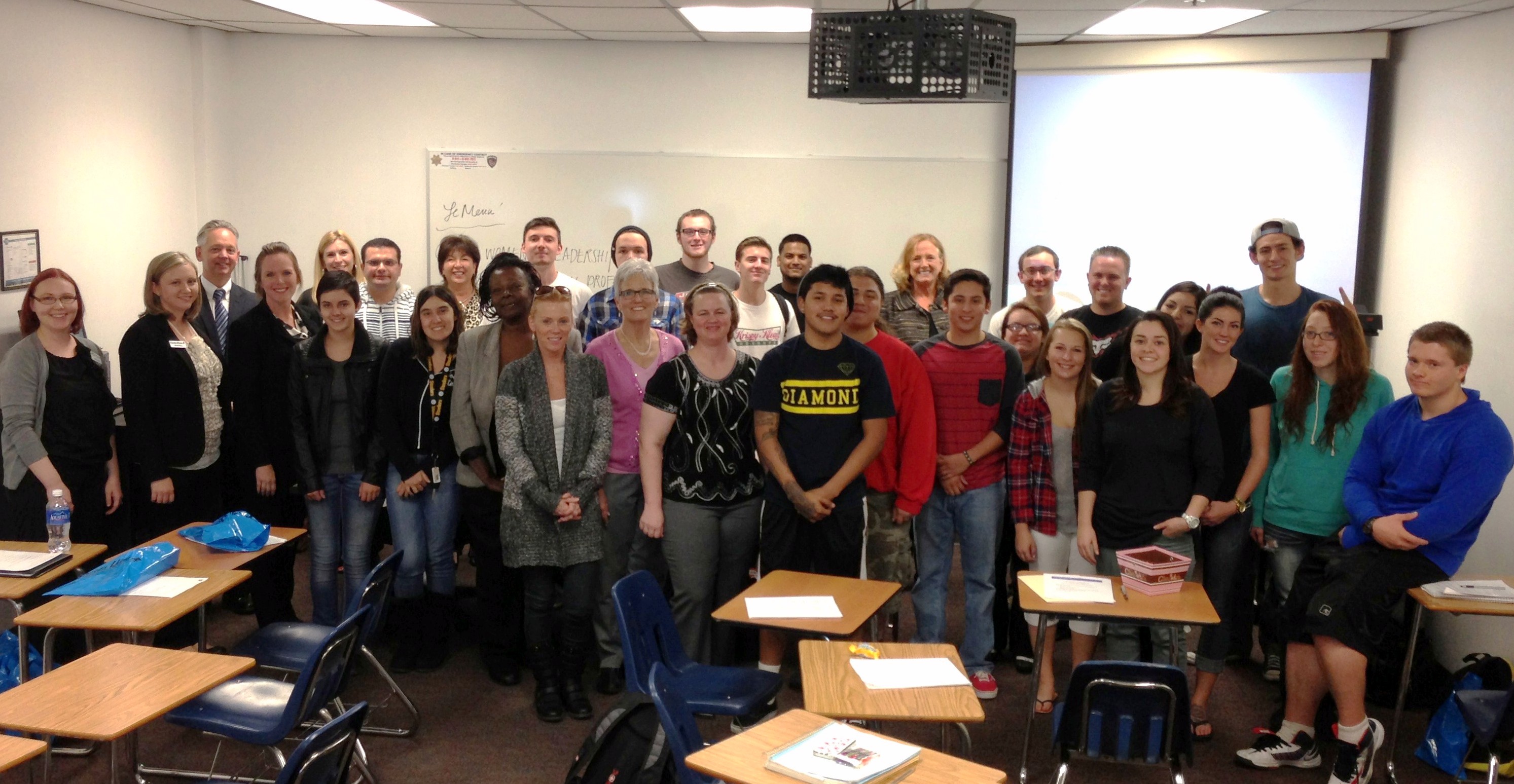 The NV Sister Society had a wonderful meeting at the College of Southern Nevada while completing a community service project for students in the Department of Business. Students were inspired by leaders to change their own behaviors and take control of their futures. Guidance was offered within 3 main areas: Credit Union Difference, Resume Review, and Interviewing Skills. The students raved about the tips and techniques that were shared in the meeting. They loved having one-on-one time with the mentors. They also loved the sample resumes, interview techniques and professional behaviors shared. The NV Sister Society truly made a difference in the lives of young people in Southern Nevada.
During the business meeting portion of the session we discussed opportunities for 2014. The group expressed a strong interest in developing projects and contributing to our communities, in addition to having opportunities to network and nurture leadership skills. We decided on the following:
The first meeting of 2014 (in either January or February) will be a professional development session focusing on Lean In. We will ask Network members to bring someone from their organization who is looking to advance into a leader by behavior, not necessarily title.
We will also reach out to those organizations who haven't had the opportunity to attend. We will read the book prior to our next session and discuss the importance of these issues to leaders in Nevada and across the globe.

The following meeting (summer 2014) we are asking a board representative from CCCU to speak to us about her journey and leadership experiences.
Thank you again for a wonderful session. Looking forward to working together in 2014!


New York/New Jersey Sister Society Meeting - October 30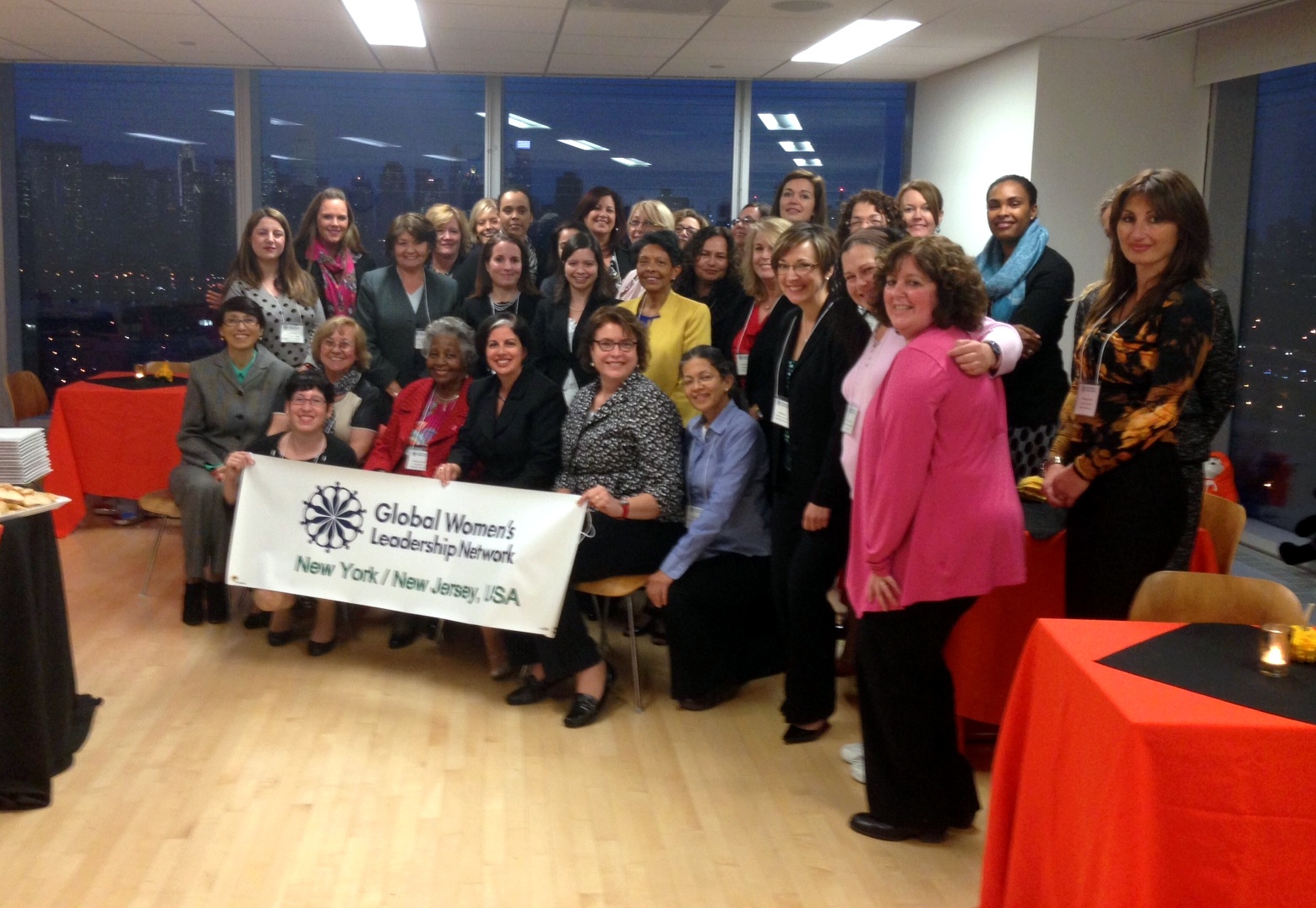 The New York/New Jersey Sister Society hosted a very successful meeting with over 37 women in the credit union industry! Laurie Benjamin and Robin Meyers from Melrose Credit Union presented an update of the Global Women's Leadership Network followed by a discussion of the book, "Lean In" facilitated by Brandi Stankovic, MSA. The group was very engaged in the dialogue about advancing women in business and in life. After the session, the attendees enjoyed a beautiful view of Manhattan and a Halloween themed wine and cheese reception hosted by United Nations Federal Credit Union.


Trinidad and Tobago Sister Society Meeting - October 24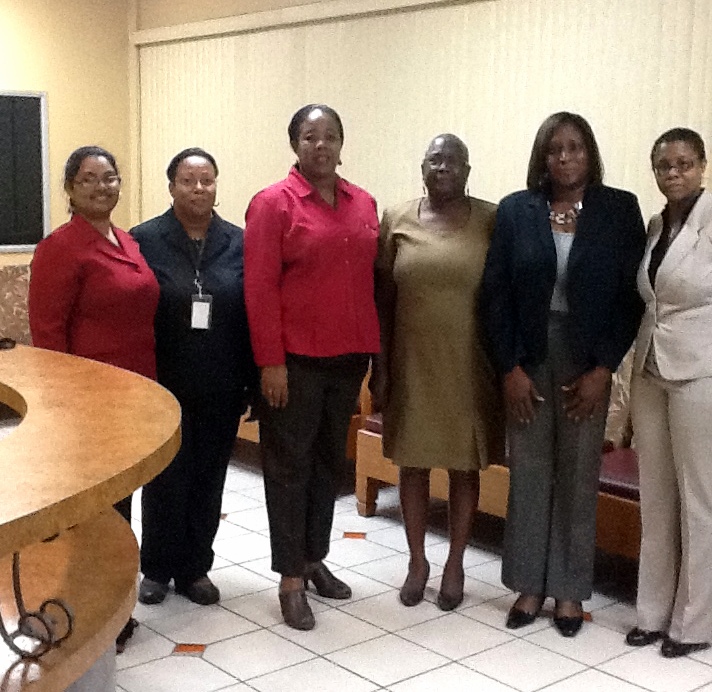 We had a great meeting on October 24 and came up with some suggestions as we move forward. We have received completed membership forms and commitments from nine other ladies, so by our next meeting our numbers will more than double. We have decided that our next meeting will be held in January, at the same venue.
We discussed three great project ideas, which we will develop further at our next meeting. We also had a brief Skype conversation with Kathy Chatier who is currently in Madison. She gave some background on how the Network started, and also discussed the importance of the Sister Societies in their own right.

All in all, the Trinidad and Tobago Sister Society is off to a great start!
Michigan Sister Society Meeting - October 17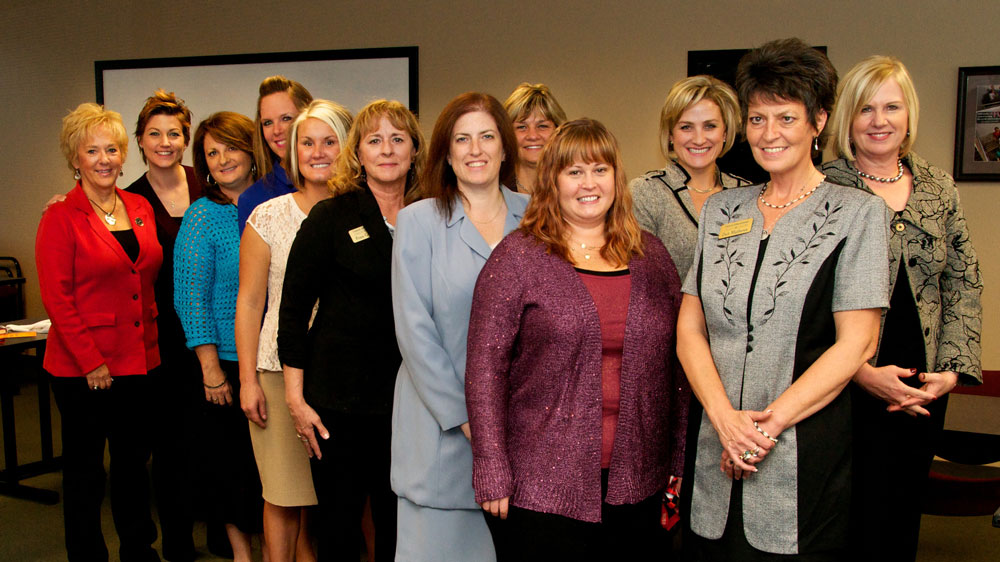 It was reported that the Michigan Sister Society meeting was fantastic! Brandi Stankovic, Partner of MSA, led an educational and networking session on the book, Lean In, by Sheryl Sandberg. Copies of the book were given to participants. Sisters also brought donations for a charitable program that offers business attire and accessories to women who are returning to the workforce for job interviews. Members networked, discussed, and got inspired by the amazing work of other Sisters in this industry.
Looking ahead, Michigan Sister Society is planning to:
Deliver women's clothing
We are asking CU*Answers employees to bring in additional women's work clothing next week.
Katie and Jody will then deliver to the Women's Resource Center of Grand Rapids.
Follow up with attendees
Meeting recap
Include group photos
Include slides from Brandi (org chart and 8 questions to ask ourselves)
Next meeting scheduling in Pontiac (with optional dates).
Discuss moving our next meeting location to a central Michigan city to see if we can get better participation from around the state.
Congratulations to the Michigan Sister Society on a successful meeting!

Arizona Sister Society Meeting - October 9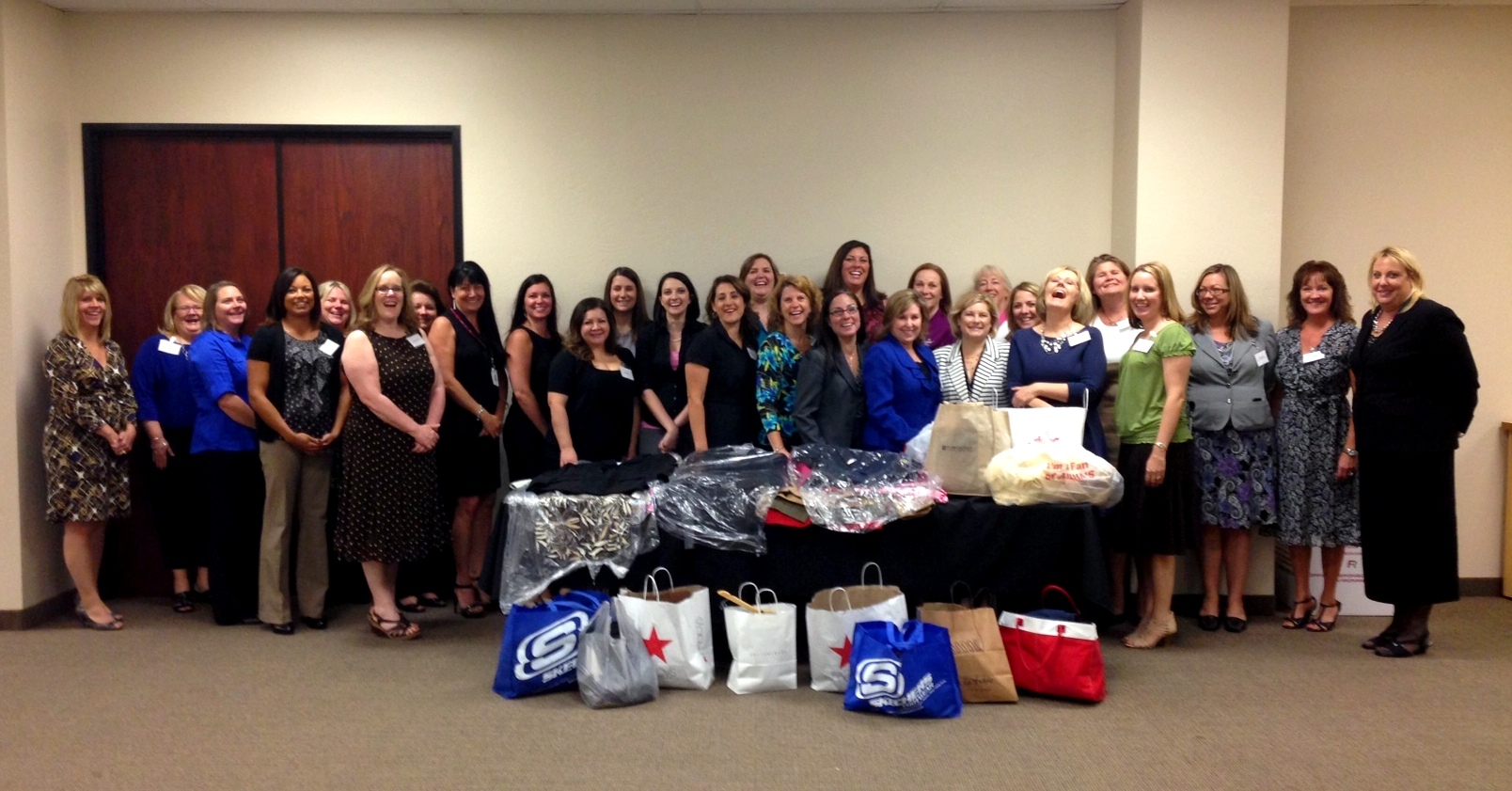 In May 2013, Arizona became a leader in the development of the Global Women's Leadership Network's Sister Society with our inaugural meeting at Arizona State Credit Union. We hit the ground running with 30 participants. The group expressed a strong interest in developing projects and contributing to our communities, in addition to having opportunities to network and nurture leadership skills.
Those who attended:
Brought a donation for Fresh Start's program that offers business attire and accessories to women who are returning to the workforce for job interviews.
Met credit union professionals - networked and were inspired by the amazing work of our Sisters in this industry.
Learned about resources in our community that offer financial literacy/coaching, assisted in empowering women and families in our community and build new credit union membership.
Determined the direction of the Sister Society in Arizona.
Many thanks to Kellee Dominguez and Bronwyn Medley for hosting this event!

Bay Area Sister Society Meeting - October 2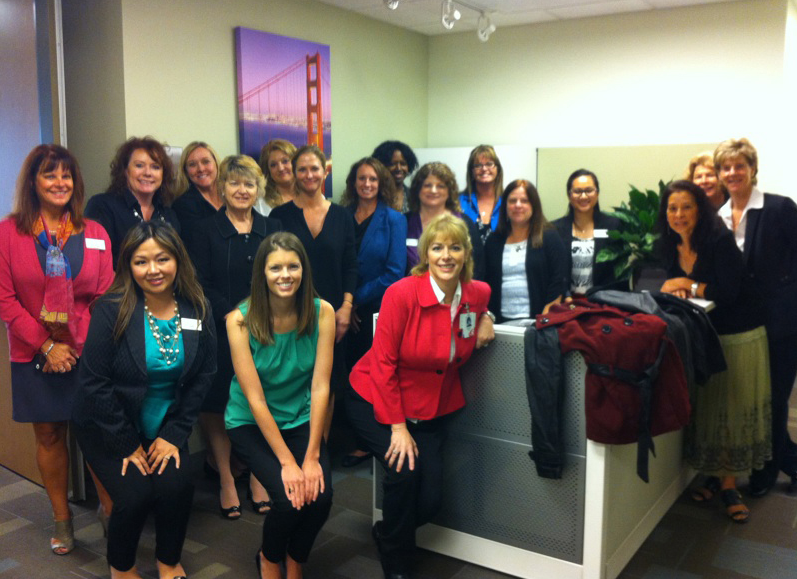 The Bay Area Sister Society meeting on October 2nd kicked off with a World Council Global Women's Leadership Network update to provide the local network members, as well as representatives from the Ontario and Alberta Canada Sister Societies, an overview of our momentum and results for GWLN in 2013. It was a real pleasure to meet our Sisters from Canada via conference call. We are expanding our sharing and learning experiences with these connections.
The educational topic and presentation was on Women's Wealth Initiative, a program developed by San Francisco FCU staff. It was designed to identify the comfort level that women of all ages within the community had about specific topics related to investing, budgeting, saving for retirement and more. Once the comfort level was determined, representatives from the credit union could then target topics and specific information to discuss with them.

According to several articles referenced, there is a stigma that women must overcome which suggests that women in general are scared to address wealth management issues, lack confidence to manage investment or negotiate large purchases, such as homes or cars. The discussion included what we as women should do to overcome those stigmas and prepare for the interactions.
Future Discussion Topics:
Speaker topic: Women and Investing — what we all should know (resources currently used by Patelco and SFFCU will be contacted to speak)
Women and Communication — maximizing our influence (Lecia volunteered to coordinate information)
Best practice discussion — how to develop the next generation of leaders (open forum discussion — each person to bring their best practice and ideas)

Other Ideas for networking presented include a female golf group in the Bay Area:
Learn to play or improve your skills in a stress and shame free environment — get together with sister society participants and hone your game skills, while taking advantage of the opportunity to network
SMCU currently has an email group, FLOGO (For Ladies Only Golf Outing), for anyone in the vicinity of the peninsula. Participants were encouraged to join the email list or start their own group if the peninsula is geographically inconvenient.
Congratulations to the Bay Area Sister Society!